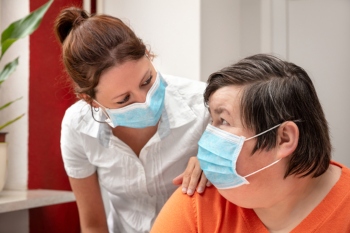 Senior care workers should be added to a list of occupations which will be able to employ migrants to make up for labour shortages once freedom of movement ends, an advisory committee says.
The Migration Advisory Committee (MAC) has recommended that senior care workers be added to the Shortage Occupation List (SOL), alongside senior nurses, butchers, bricklayers and welders.
The committee emphasised that it did not believe that drawing on overseas workers was the only answer to the care sector's labour shortage. It also recommended that jobs be made more attractive to UK workers by increasing salaries.
'The number of migrants coming to work in the UK has already decreased and we are likely to see an increase in unemployment over the next year as the economic impact of the pandemic continues, so this has been a very challenging time to look at the Shortage Occupation Lists,' said MAC chair, Professor Brian Bell.
'It has made us more willing to recommend some roles for inclusion simply because it is the sensible thing to do, but we have been clear that migration is not always the solution.
'We remain particularly concerned about the social care sector, which is so central to the frontline response to this health pandemic, as it will struggle to recruit the necessary staff if wages do not increase as a matter of urgency.'
The MAC, which provides independent, evidence-based advice on migration issues to the Government, was commissioned to consider what medium-skill occupations should be included ahead of the introduction of a points-based immigration system on 1 January 2021.
Commenting on the committee's recommendations, Deborah Alsina, chief executive of the charity Independent Age, welcomed the emphasis on both migration and improving opportunities within the care sector.
'We welcome the Migration Advisory Committee's recommendation that senior care workers are placed on the Shortage Occupation List, to enable overseas workers to fulfil some of these roles once freedom of movement ends,' she said.
'However, we know that providing an immigration route for senior care workers will do little to tackle workforce pressures in adult social care. Latest figures from Skills for Care show that there are nearly 10 times as many care workers (865,000) than senior care workers (87,000), yet there is still no planned migratory route for this much larger proportion of the workforce.
'Independent Age continues to call on the Government to establish pathways for care workers to come to the UK to ensure we do not see further workforce shortages. We also welcome and echo the committee's urgent call today for additional funding to enable higher wages to be paid to boost domestic recruitment. Action on both of these fronts is essential if the social care workforce is to be equipped to meet the significant challenges ahead.'
Sally Warren, director of policy at The King's Fund, also welcomed the committee's recommendation to add senior care workers to the SOL.
'This provides long-overdue recognition of the immense public value of social care roles,' she said
'However, no one should pretend that these limited changes will resolve the long-standing issues with recruitment in social care. As the Committee recognises, poor pay remains a major issue in the sector. We need a well-funded social care system that recognises the value of care workers with fair pay and conditions.'