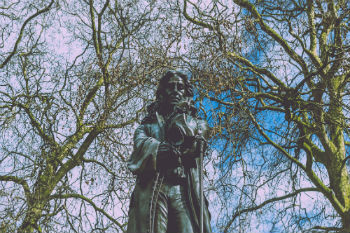 A 316-year-old portrait of a prominent slave trader, responsible for the deaths of thousands, has been removed from the lord mayor of Bristol's office.
Cllr Cleo Lake ordered the removal of the painting of Edward Colston from her office reportedly saying she did not want to share the space with a slave trader.
Mr Colston was a manager and deputy governor with the Royal African Company (RAC) between 1680 and 1692.
During this time, according to the Countering Colston campaign, 84,500 enslaved Africans were transported on RAC ships, with nearly 20,000 dying before reaching shore.
Cllr Lake told the Guardian it made her 'feel uncomfortable sharing the parlour with the portrait.'
The painting, which has hung in the lord mayor's office since 1953, will go into storage and may be hung in a museum in the future.
The lord mayor has put out a call on Twitter asking for suggestions for what might replace the painting.
Thinking forward about whose portraits or which artists might feature on the parlour walls. Who or what says Bristol today to you? #YearOfChange @BristolOldVic @Ujimaradio @ArnolfiniArts https://t.co/fCkgpxqSBt

— Bristol Lord Mayor (@brislordmayor) June 18, 2018
One Twitter critic said removing the portrait was a 'problematic approach' and suggested the move was an attempt to 'correct history'.
The historian David Olusoga responded that no one was trying to 'change the past or hide from history.'
'It's about whether or not we should venerate a man who was responsible for the deaths of thousands of innocent people,' he added.
No one is frightened of a man who died in 1721. No one is trying to change the past or hide from history. Its about whether or not we should venerate a man who was responsible for the deaths of thousands of innocent people.

— David Olusoga (@DavidOlusoga) June 19, 2018