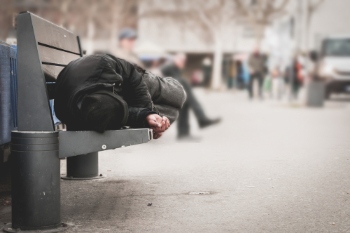 London boroughs have warned that a reduction in Government funding risks undermining homelessness prevention work in the capital.
The Government recently confirmed that funding provision to local authorities in England for Discretionary Housing Payments (DHPs) in 2022/23 would reduce by 28% – from £140m to £100m.
The cross-party body, London Councils, has highlighted that London's allocation has fallen from £37m to £26.7m and warned that the reduction will undermine efforts to reduce homelessness, particularly with the growing cost-of-living pressures.
Cllr Muhammed Butt, London Councils' executive member for welfare, empowerment & inclusion, said: 'We're facing the most severe homelessness crisis in the country and boroughs are deeply concerned by the reduced funding available for discretionary housing payments.
'These payments are boroughs' main homelessness prevention tool. They can be vital for helping low-income households pay their rent and keep a roof over their heads. With so many Londoners struggling to make ends meet, we're worried what will happen if fewer discretionary housing payments are available.
'We know the government shares our ambitions on tackling homelessness. Good progress is being made on reducing rough sleeping – but we need the same focus and funding boost for preventing other forms of homelessness. A staggering number of Londoners already live in temporary accommodation and we can't afford for these numbers to go up even further.'