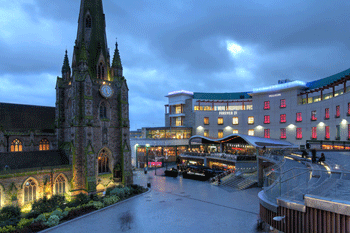 Birmingham City Council is bang up to date with information technology for the General Election.
The town hall has launched an election updates service through the mobile messaging service WhatsApp. This includes sending out voter information, candidate lists and other election news in the build-up to the poll and throughout the General Election and local election counts.
In a historic first, people will also be able to see the results as they are announced on Thursday night and into Friday using Twitter's new Periscope app.
The results will be broadcast live from the count and will also be available on YouTube shortly afterwards.
Users will receive an alert whenever a declaration is about to be broadcast live from the election count.
Birmingham returning officer and council chief executive Mark Rogers said: 'Over the last few years our online election updates and results via Twitter have proved extremely popular and we've decided to extend that coverage to reach a different audience through WhatsApp.
'The initial uptake has been encouraging and we'll assess how this project goes before deciding if WhatsApp could be used for other projects.'