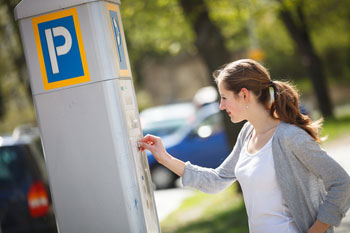 The UK is 'on verge of revolution to make parking easier', according to a government announcement.
Michael Ellis, the future of mobility minister, said new national parking data standards could mean the end of outdated systems.
It would identify available parking spaces, permitted times and prices in simple formats that apps can use throughout the country.
The age of the payment parking machine could be coming to an end, he said.
The Government's ambition was for all parking data released by local councils and companies across the country to use the same language.
Standardised data could lead to smoother and easier payment methods and transform the way motorists park, just as the Oyster card transformed travel in London.
The announcement follows the publication of the Government's Future of mobility: urban strategy.
Mr Ellis said: 'We are on the brink of a revolution for the future of transport, with ground-breaking technologies creating huge opportunities for cleaner, cheaper, safer and more reliable journeys.
'We now need to ensure the infrastructure surrounding these technologies is in place and can accommodate these innovations.
'The new parking data standards will bring Government, private organisations and technologies together to ensure a smoother parking experience for drivers.'