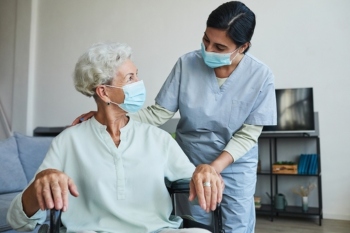 Ministers should fix a minimum level of pay for care workers to help ease the current workforce crisis, advisers have said.
The Migration Advisory Committee (MAC) said the Government should foot the bill for a minimum rate of £10.50 per hour for care workers in England - estimated to cost the Government £1bn.
It was tasked by the Government with looking at the impact of ending freedom of movement on the care sector.
MAC's report concluded: 'The challenges the sector faces predate the ending of freedom of movement and the underlying problem has been and continues to be the underfunding of the social care sector.'
However, the MAC also recommended that the permanent addition of care workers to the health and care worker visa and shortage occupation list.
Speaking after the publication of the report today, committee chair Brian Bell warned addressing immigration barriers was not a 'silver bullet' and would not be enough without raising pay.
He continued: 'That would have very little fundamental effect on the crisis in the social care workforce unless it's addressed financially - nothing else will do the job.
'It has to be part of a longer-term strategy for workforce planning.'
While fixing a minimum level of pay would only apply to public sector jobs, Prof Bell said he believed it would pile pressure on the private sector.
He added: 'I think it would immediately have some impact.
'It will make the sector more competitive.'
The Government will consider the committee's findings before issuing a response.