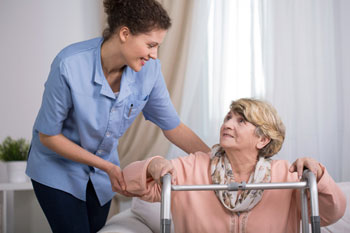 The adult social care sector in England faces a gap of 200,000 care workers because of restrictions on immigration and a failure to attract British workers, according to a new report.
The research, carried out by Independent Age and the International Longevity Centre-UK (ILC-UK), looks at the size, shape and scope of the care workforce in England and argues that restrictions on migration and a continued failure to attract more UK born workers to social care has created the gap in the workforce.
The report, entitled Moved to Care, found that one in 20 (4.8%) of positions in adult social care in England are currently vacant – nearly twice the vacancy rate in the UK's labour force as a whole (2.6%).
This shortfall will place a lot of pressure on social care, which already has to deal with a rapidly aging population and reductions in its funding.
According to the new research, one in five of the adult social care workforce (18.4%) in England was born outside of the United Kingdom, which includes 150,000 working in residential care homes and 81,000 working in adult domiciliary care.
Greater London is particularly reliant on migrant care workers with nearly three in five of its adult social care workforce (59%) born abroad.
Independent Age and ILC-UK make a number of recommendations for dealing with the workforce gap:
• Investing in training, apprenticeships and career development to make adult social care an attractive career choice for UK born workers.
• Adding highly skilled roles in the adult social care sector - such as therapist and social worker - to the Shortage Occupation List, making them easier for employers to recruit from overseas.
• Allow low-skilled migrant workers to enter the social care workforce by opening up the Tier 3 visa route.
Simon Bottery, director of policy at Independent Age, said: 'Without action, there is a real risk of care services worsening as providers fail to fill job vacancies and staff struggle to cope with increasing demand. That can only be bad news for the older people who rely on these services to carry out basic tasks like eating and dressing.
'We need to recognise the current reliance of social care on migrant workers and make it easier for them to work here but also look to the sector's longer-term future. The government must use the upcoming Spending Review to invest in social care so it can attract more UK workers, while at the same time exploring new ways of caring for our ageing population in the future.'
Commenting on the report John Atkinson head of commercial business at Hitachi Capital Invoice Finance, said: 'There's increasing pressure on healthcare providers to fill current positions while solving the ongoing problem of skills shortages and this is unfortunately only likely to intensify. We questioned a number of MDs and owners of recruitment firms that cover healthcare and the results very much support the concerns of the report, where high turnover rates and immigration are said to be fuelling the shortage.
'For 94% of respondents, a growing trend for short-term temporary recruitment has been witnessed, as the need to plug gaps and maintain business efficiency take priority. Indeed, for almost all, the average term of contract placement is only for 3-6 months, therefore revealing the regularity at which healthcare providers are having to reassess their staffing needs.'