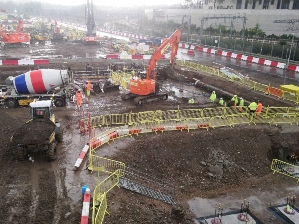 With the need for urgent action to decarbonise infrastructure and construction, clean growth SME Accelar is demonstrating how carbon can be tracked and reduced through three innovative projects.
The projects are funded as part of Innovate UK's Transforming Construction and Sustainable Innovation programmes and involve Accelar in key areas for accelerating decarbonisation. For example, in relation to carbon intensive materials; improvements to construction processes (e.g. Modern Methods of Construction); better use of digital tools, measurement and benchmarking; and integrating carbon into supply chain management.
Accelar leads on carbon and environmental benchmarking within the Transport Infrastructure Efficiency Strategy (TIES) Living Lab. This transformational project aims to accelerate the adoption of new technologies and ways of working to improve the whole life value of infrastructure assets. Working collaboratively with 25 partners including the Department for Transport, Network Rail, Transport for London, Highways England and NSAR, Accelar's role includes generating insights to improve whole life carbon performance, such as capturing the benefits associated with Modern Methods of Construction.
In the Decarbonising Precast Concrete project, Accelar's circular economy and carbon experts have been developing cradle to gate carbon footprints of precast concrete products. Accelar is supporting Akerlof, PCE Ltd, Forterra and Curtins. The project aims to lever the interaction between, design, manufacture and installation along with the development of innovative concrete mixes to reduce the embodied carbon footprint using the Ministry of Justice (MOJ) secure accommodation platform designs as its benchmark. The project findings can be used across the MOJ estate as well as being applied to other forms of construction.
Accelar is also working on the Procuring for Growth project, supporting the development of new carbon reporting that is fully integrated into IAND's innovative digital supplier analytics and collaboration platform. This will provide clients with a holistic view of SME/supplier performance on carbon and other impact targets, helping report to new regulations such as PPN 06/20 and supporting Levelling Up. "The unique expertise in carbon that the Accelar team brings to this project, alongside experts from Faithful+Gould and Network Rail, helps to future proof IAND's new impact reporting and gives visibility to our clients in how their supply chains support their transition to Net Zero" commented Elspeth Finch MBE, CEO and founder IAND.
Accelar's Co-founder and Managing Director Chris Fry remarked "numerous advances in products, processes and digital technologies have a part to play in achieving the scale of reduction in capital carbon that is required. These three, highly collaborative projects each provide the ideal environment to pinpoint where advances can be made and adopted straight away."
For further information please visit www.accelar.co.uk