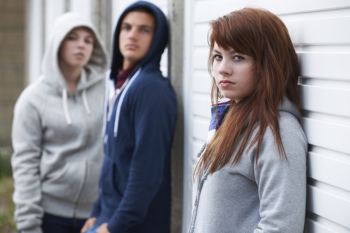 Youth services have a vital role to play in tackling crime, gang culture and loneliness, a charity has argued today.
A new report by YMCA found a quarter of young people do not spend time with their friends outside of school due to a fear of gangs. A third also stopped seeing friends away from school as they did not feel safe on the streets.
Only half of young people could identify any youth services near them, despite 55% believing they help keep young people off the streets, the report found.
In addition to reducing crime, more than half of those surveyed also said youth services gave them the opportunity to develop new skills and improve their confidence and self-esteem.
'While young people are forced to bear the brunt of drastic and increased cuts, they are expected to do so quietly and without consequence,' said Denise Hatton, chief executive of YMCA England & Wales.
'These findings show that what they are crying out for are the very things youth services are specifically designed to provide. Every young person deserves a safe space, a trusted adult and the opportunity to enjoy being young. Young people are telling us what they need – in their own words – and in order to support them now and in the future, they must be listened to and acted upon.'
Head of local government at Unison, Jon Richards, added: 'Youth services are in tatters after almost a decade of austerity. Our research has shown that since 2010 government cuts have forced 940 youth centres to close with the loss of 4,500 youth workers.'