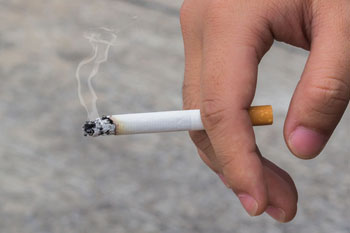 The percentage of young adults who smoke in England has fallen by over 5% in the last five years, new figures show.
According to a report published today by NHS Digital2, the Office for National Statistics and Public Health England, smoking prevalence fell for all age groups between 2010 and 2016.
The largest fall was amongst 18 to 24 year olds – from 26% in 2010 to 19% in 2016.
Estimates also show the proportion of all hospital admissions attributable to smoking has fallen from 6% in 2005/06 to 4% in 2015/16, despite the fact the number of admissions has increased from 458,000 in 2005/06 to 474,000 in 2015/16.
Barnsley, Sunderland, Blackpool and Hartlepool had the highest estimated hospital admission rates for smoking-related conditions, with each having a rate of more than 3,000 per 100,000 of population.
Wokingham and the Isle of Wight had the lowest rates of estimated hospital admission rates with each having a rate of below 1,000 per 100,000, the figures show.
Manchester had the highest estimated rate of smoking-related mortality with 509 per 100,000 of population, and Harrow, Rutland and Wokingham had the lowest rates, all below 200 per 100,000.
The prevalence of e-cigarette use among 16 to 24 year olds increased from 2% in 2015 to 6% in 2016.