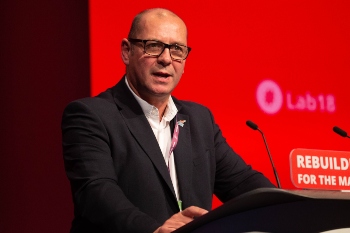 The pay and treatment of local government workers in this country is a disgrace.
The lowest paid in local government earn less than the UK real living wage rate of £9.50. Who can raise a family on that without a struggle?
The insulting 1.5% 'offer' is yet another pay cut for our hardest working people when they deserve – and desperately need – a proper pay rise. It's worth £1.03 a day for the lowest paid in local government; that won't even stretch to buy a loaf of bread.
Local government workers have suffered the loss of almost a quarter of their pay in real terms.
This deliberate impoverishment is a disgrace so my pledge to local government workers is that as Unite leader, this will be opposed with fury.
Unite's fantastic officers and reps were central to the development of my offer to local government workers, which is why my campaign begins with committing to the battle for a just and honourable pay settlement.
The public is with us on this. They know that as well as being morally the right thing to do, it makes economic good sense too.
Local government workers don't stash their wages in the nearest tax haven – they spend it in the local shops. From every pound that goes to local government workers, 70p goes straight back to the community.
Oppose austerity's return
Over a decade of senseless, damaging central government cuts have wounded local government deeply, compounded by the tragic failure to provide the funding urgently needed to keep our communities safe and supported. Even the government's own fiscal minders, the Office for Budget Responsibility, have said local government spending must rise to deal with the fallout from the pandemic.
But rather than seize this opportunity to renew our economy by investing in our local communities, Boris Johnson's government will impose yet more austerity.
You only have to look at the pitiful less than £1 a week provided to restore our children's lost education to see exactly what this government thinks of our public services and the people who rely upon them.
And the Scottish government's efforts to pit our local government workers against NHS and social care staff are breath-taking; Unite Scotland's members have my full support as they fight for the respect they deserve.
But we can return cash to our councils – by ending the culture of outsourcing.
The collapse of Carillion and Interserve exposed the worst of this wasteful practice. They rinsed our councils and then, when they failed spectacularly as Unite warned they would, we picked up the pieces and the bill.
Never again. More and more councils are bringing privatised and outsourced services back in house where they belong, working with Unite to level up locally. I am determined that we will build on this to create decent, directly-employed, unionised work in our communities, so that our taxpayer pound goes on funding our services for our local communities, not on fat cat profits.
Two-thirds of those councils say it saves them money and over half have said it improves the quality of those services.
Unite will level up
Under my leadership, we will be the ones who truly level up. Unite will dedicate resources to putting services at the heart of our drive to build community wealth.
I will always talk to creative leaders where they share our values to join forces against central government disinterest and neglect. Councils like Salford and North Ayrshire understand the power of public services to provide the decent, unionised jobs and services key to reviving our forgotten towns and neighbourhoods.
But there is no way I will let the Westminster government off the hook, because ultimately it is responsible for cuts to local government services across our nations. Every day I will hang the poverty pay that they have imposed and their degradation of our services around their neck.
If we have to strike to secure our workforce the pay they deserve, I will use all of Unite's might to win. No worker who takes strike action to save our services or their wages will be starved back to work while I am leader. Our strike fund – the biggest of any trade union in Europe – will support them.
My 'one call, that's all' service means that no matter the time of day, Unite will be there for members. I will establish a Workplace Development and Innovation Programme to support the growth of branches and workplaces, and there will also be a Unite programme to champion fair home-working so that no worker is left isolated, deskilled or out of pocket.
My determination to deliver the very best services also comes with a commitment to freeze union subscription rates for two years.
As the government gambles on our health, chasing dates and ignoring the data while this virus rips once more through the country, our council workers are again at risk. I promise that Unite's health and safety expertise will be deployed to our workplaces to keep our council members safe.
I will never forget that while much of the country was told to stay home and safe as COVID took hold, our local government workers walked towards danger to serve us and keep us safe.
The best and bravest of us, the heart and soul of our community services, I will always have their back.
Steve Turner is standing to become the next general secretary of Unite