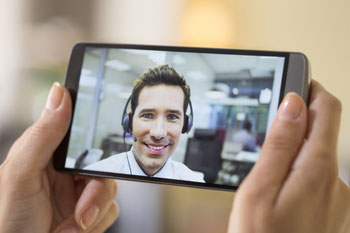 Cloud deployment can revolutionise the day-to-day lives of local government workers and offer solutions to some of the more acute challenges facing councils. Ealing Council recently piloted a new scheme that will see their telephony system moved to the cloud in a bid to take advantage of the new technology.
I spoke to Cllr Ibbitson, the council's director of business services, about his council's rolling out of Skype for Business, a cloud-based platform that will replace the council's traditional telephony services. We also discussed the close relationship between technology and culture.
He began with a confession. 'We've not been at the forefront in producing a digital strategy,' he admits. However, this does not mean they are apathetic about digitisation. 'We have got some digital initiatives,' he says, and one of these is the introduction of Skype for Business.
This new Microsoft product is designed to allow users to simplify their communications infrastructure with one platform for calling, conferencing, and sharing information. Ealing is currently piloting it with the intention of rolling it out across the whole of the authority, making the traditional telephone system surplus to requirements.
I asked Cllr Ibbitson what attracted Ealing to Skype for Business. 'We were driven towards doing a review of this area because our current telephony solution required an upgrade and some hardware renewal and that was very expensive,' he explains.
Rather than investing hundreds of thousands of pounds replacing their phone system, Ealing looked for a cloud solution. 'There's a general direction to move IT to the cloud and that's the sort of direction we endorse,' he says. 'And we thought we saw a number of advantages with cloud telephony.'
The advantages appear to be manifold. The council would not have to run it themselves. Instead, they would draw it off as a service. This means they do not have to have teams on site to maintain the system. It will also provide them with a lot of resilience and, Cllr Ibbitson says, it will be mean lower costs.
One of the reasons Skype for Business stood out for Ealing - rather than any other similar product - was that it integrated easily into the council's pre-existing business software. 'We use Skype. We use other products from the Microsoft sweet like Yammer, and it seemed to join up some of those collaboration tools,' he explains. 'We saw that integration being of great benefit.'
Aside from these material advantages, what really interests Cllr Ibbitson are the more abstract benefits the new technology will afford the council: the cultural change. 'That's the bit that really excites me. This truly digital change.' 'The opportunity offered by technology will change the way we behave and make our work more productive and more effective,' he enthuses.
With Skype for Business, Cllr Ibbitson explains, council staff will no longer be focused on telephone numbers but instead they will be thinking solely about who it is they wish to speak to: 'they'll be using their contacts.'
They will be able to understand via Presence - a signal showing someone's availability - whether now is a convenient time to talk. If it isn't, they can contact them through another channel; instant messaging, for example.
'I think that's really going to provoke some thought about the way people interact,' Cllr Ibbitson says. 'It's going to mean less failed calls, because we know when people are busy. I think it makes the interaction down the right route. Is it immediate? Does it need to be an instant message? Does it need to be a telephone conversation? Or is a face to face call on Skype best?'
I ask about staff reactions. Has there been any push back against the change? 'This is early days,' he says, 'We're just in pilot phase.' He explains that people are, on the whole, very welcoming of the new opportunities the technology provides, but he adds that for some the changes are 'a little bit overwhelming.' 'We just used to plonk a handset on someone's desk in the old days,' he points out. 'Now we can say, look, you can have a soft phone you can plug that into the USB socket. Or you could have other devices, such as a conference phone hub. Or you can just plug in your mobile handset. There are lots of opportunities and we need to talk those through with people.' 'It is of course going to be a big change for users,' he concludes. 'We've had traditional phones on the desks now for 60-70 years maybe, so it will be really interesting and really tough in parts, but we think that really this might change the way that we interact as an organisation.' ________________________________________