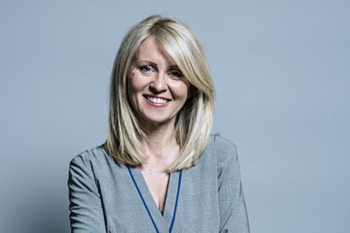 The Government yesterday announced it will be paying £30m to a construction firm in Yorkshire to make the North of England the 'world-leader in the creation of modern, green homes'.
The Homes England funding announcement, which coincided with Labour's 'Warm Homes For All' commitment, means that ilke Homes' factory in Knaresborough will be able to increase production of modular homes.
By next year, according to housing minister Esther McVey, 2,000 modular homes will come off ilke Homes' production line, rising to 5,000 homes a year within the next five years.
The modular homes are more energy efficient than traditional homes, Ms McVey said, halving energy costs compared to the average UK property.
'The North of England has the potential to lead the world in the modern methods of construction that are transforming home building,' she said.
'An industry that when matured would be worth £40bn a year and provide up to 80,000 jobs. We need to fully embrace this.
'This £30m investment in ilke Homes is a significant step forwards in the development of the 'Construction Corridor' – a new hub in the North that is front and centre of building the homes we need.
'It's vital we invest in new technology to get Britain building. Homes built using modern methods can be of higher quality, greener and built to last.'
Dave Sheridan, executive chairman at ilke Homes, welcomed the deal.
'This deal is testament to the dynamic approach Homes England is taking to address structural issues within our housing and construction industries,' he said.
'The funding will bring in further private capital, creating hundreds more skilled jobs allowing us to build more homes more quickly for first-time buyers.
'We want to continue driving efficiency, quality and sustainability within the housebuilding industry and see this as a fantastic signal to others wishing to do the same.'
Labour yesterday said they would install energy saving measures, such as loft insulation and double glazing, and renewable and low carbon technologies, in almost all of the UK's 27 million homes.
They said their 'Warm Homes For All' commitment would deliver 450,000 jobs by 2030 and bring energy bills of 9.6 million low income households down by an average of £417 per year.
Rebecca Long Bailey, Labour's shadow business and energy secretary, said: 'Warm Homes for All is one of the greatest investment projects since we rebuilt Britain's housing after the Second World War.
'Labour will offer every household in the UK the chance to bring the future into their homes – upgrading the fabric of their homes with insulation and cutting edge heating systems – tackling both climate change and extortionate bills.
'This project will also create hundreds of thousands of good unionised construction jobs, bringing good work back to areas of the UK the Tories abandoned long ago.'