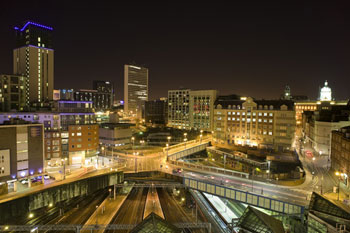 The Government today launched a new portfolio of investment projects showcasing investment opportunities in the Midlands region.
The Department for International Trade announced a portfolio of 19 projects at MIPIM, the largest international property trade show, in order to attract investors to the Midlands.
The Midlands Engine Investment Portfolio includes large-scale regenerations of city centres in Birmingham, Derby and Nottingham, the National Space Centre in Leicester and the first purpose-built business district in Coventry.
Compiled by the Department for International Trade in partnership with the Midlands Engine, the portfolio was unveiled on the UK government's first ever pavilion at MIPIM.
The portfolio follows the publication of the Midlands Engine Strategy.
'The Midlands Engine Investment Portfolio demonstrates our ambition,' said Sir John Peace, chairman of the Midlands Engine.
'We have some truly incredible projects available this year; whether it is investments that have been borne as a result of HS2 or smaller projects that will deliver real change, economic growth and jobs for of our cities.
'Investors will not only be investing in projects that will deliver significant return on investment, but will be driving growth in our region and acting as a catalyst to create the environments where our businesses can thrive.'
'The work we are doing in the region is a clear sign to the international investor community that the UK is open for business and that the Midlands is at the heart of this offer,' he added.
The international trade minister, Mark Garnier, said: 'The Midlands Engine Investment Portfolio will enable us to harness the strong potential and accelerate the growth of the region by showcasing some of the most exciting investment projects across the Midlands.
'It will also enable us to build on the region's strong record of attracting foreign investment.'