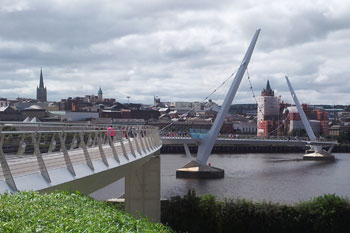 The Government has announced a £105m package to help boost the 'economic potential' of the Derry-Londonderry region.
The funding, which is broken down into £50m for the Derry and Strabane City Deal and £55m for the new Inclusive Future Fund, is aimed at supporting innovation and digitisation in the region.
The Government argues the investment will enable new projects such as a Centre for Industrial Digitisation, Robotics and Automation, as well as a programme of digital and smart cities interventions.
'This £105m investment package is a major boost to the economic potential of the region and will help strengthen the foundations for greater prosperity and a stronger, more united society,' said the secretary of state for Northern Ireland Karen Bradley.
'The new Inclusive Future Fund recognises the unique circumstances facing the region and will help create new opportunities for the whole of the community, especially for young people.'
'As secretary of state, I am deeply committed to building a dynamic, prosperous, outward-looking Northern Ireland that works for everyone, irrespective of community background,' she continued.
'Today's announcement is a major milestone in my personal determination to unlock the huge potential that the whole of Northern Ireland has to offer.'
Communities secretary James Brokenshire commented: 'This major investment in the people and community of Derry-Londonderry and Strabane will bring enormous benefits for years to come.
'It will create high-value jobs, put the area at the forefront of the UK's growing digital economy and complement the Belfast Regional City Deal.'