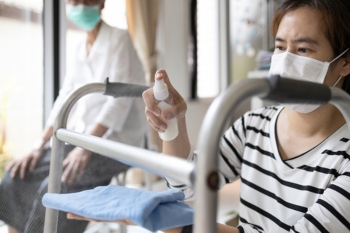 A county council in Wales has taken over the management of a private care home that has been severely affected by COVID-19.
Carmarthenshire County Council has warned that social care services in the area are straining under the 'significant pressure' of the pandemic.
There are 34 care homes in the Welsh county with COVID-19 cases or unable to take placements as they recover from an outbreak.
According to the council, 10 care homes in particular are so affected by the virus that the council has had to step in to provide support and extra staffing.
In one case, it has had to take over the management of a home temporarily as staff and management were unable to work.
'Over the last few weeks, social care has been under significant pressure to maintain critical services,' said Jake Morgan, the council's director of communities.
'The overwhelming challenge for many homes is to maintain safe staffing levels and we are providing services and staff directly to support a number of homes in the county.
'There are a range of contingencies that we have put in place to mitigate the risk over the coming weeks and I am pleased that through the efforts of our dedicated care and health staff that the vast majority of clients who contract COVID-19 are able to make a full recovery.
'Staff across social care are going above and beyond what could be expected of them to support and protect vulnerable people, and I want to thank them personally for their continued commitment.'
Cllr Jane Tremlett, executive board member for health and social care, commented: 'Risks have been high across the sector over Christmas and will remain so until the vaccine roll-out is completed. Thankfully, we are already seeing the benefit to those care homes who received the vaccine before Christmas.
'We are close to the vaccine having a real protective effect in our communities and I would ask everyone in the county to do their bit to prevent the spread of the virus and give us the best chance to protect our most vulnerable.'