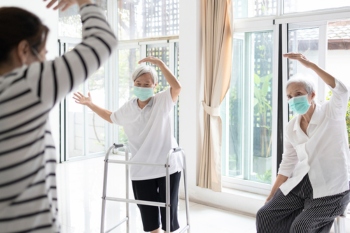 Social care and community services are getting a funding boost. But while more money is welcome and will help in the pandemic recovery while also addressing long-standing societal issues, it is time to think smarter about how that money is deployed. It is time to focus on outcomes, not just services.
Through the Health and Social Care Levy and an increase to the rates of dividend tax, there will be around £13bn per year of spending on health and social care across the UK in the next three years. Plus, the chancellor announced in the latest Budget that local government will receive new grant funding over the next three years of £4.8bn and there will be £640m a year to address rough sleeping and homelessness, an 85% increase in funding compared to 2019.
This is all good progress, but it is essential that we do not just do more of the same. Spending more money in the same way we always have done will not transform the experience of health, care and community services for the better, tackle deep-seated health inequalities and set us up to meet pressures that will only increase as the population ages. The Government, and the whole health system, will need to find the ideas and energy for new approaches and more effective spending.
Social impact investment using outcomes partnerships offers part of the answer. These are structured so that commissioners only pay when specified positive social outcomes have been achieved. The social investor provides the upfront funding needed to social sector delivery organisations, taking on the risk if the outcome is not achieved. Focusing on outcomes means that the social sector organisations are able to provide tailored and flexible services to achieve the best for the people they work with. The potential of this kind of approach to unlock value and empower charities and other social mission organisations is huge, at the same time delivering value for money.
With our partners, we have seen how this idea can be put into practice successfully. One of the greatest pressures on the health service comes from people with long-term conditions like diabetes, mental health issues and now long COVID. Many of these patients need support in the community – be that through interesting activities, advice or simply companionship – that the NHS struggles to provide. And through a new collaboration with The Ways to Wellness Partnership in North-East England, this kind of outcomes-based approach has delivered a 38% reduction in secondary care costs and a 14% reduction in GP visits in the area where it operates.
Another example is around tackling homelessness. The Greater Manchester Homes Partnership, with funding and support from Bridges Fund Management and involving several charities, housed 90% more people at risk of homelessness, at a lower cost to Government per person, than originally anticipated. We at Big Society Capital also recently partnered with the Ministry of Housing, Communities and Local Government to invest in property to house people facing homelessness after the COVID pandemic. The Government invested £15m, alongside a further £15m from Big Society Capital – which catalysed an additional £50m from other investors alongside, showing how the right partnerships can make public money go further.
This kind of focus on outcomes and cost effectiveness is what government at all levels will need if it is to make best use of this new money and use it to deliver a real transformation in the health and well-being of people across the country.
There are common elements to all the successful social investment initiatives that aim to improve public services. They need government purchasers who are willing to focus on buying outcomes not specifying detailed inputs, local community organisations and the voluntary sector enabled to play a key role in delivery, and investors motivated by social mission as well as financial return.
We are increasingly seeing these elements come into place across different social issues and in different localities, with more investors wanting to see their money benefit society as well as themselves. The approach is also popular with voters, moving away from monolithic tightly specified contracts with the usual suspects of corporate outsourcing, towards a focus on outcomes that matter for communities and involving organisations who really understand their needs.
We welcome more funding, but let's be really smart about this and make it count. Let's do things differently, focus on outcomes, and use social impact investment to make public money go further.
Stephen Muers is CEO of Big Society Capital