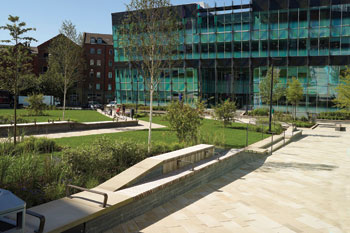 Leeds city centre, the core of one of the North's most prominent cities, lacks any major green space. In fact, it currently has tree cover that is only 25% of the European city average. Leeds City Council's Sovereign Square project seeks to rectify this by bringing nature back into the heart of the urban centre.
The square's new green layout, which was designed for the city council by re-form landscape architecture, includes fifty new mature trees planted around a large central lawn. Prone to flooding, the square also incorporates a 35m long rain garden to sustainably manage surface water. A wide variety of seating is also now available throughout the public space.
A water channel once ran through the site from the adjacent River Aire to power Leeds' 18th century mills. The artist Mel Chantry, alongside designers Fountain Workshop, has created a plaza that attempts to capture this history. Constructed of a stepped plinth of stone, the plaza has water bubbling up through cracks before flowing down a rill towards the river.
The primary surface material is Yorkshire hard gritstone that is prevalent across West Yorkshire. It was chosen for its predominantly buff colour. The stone was quarried less than 10 miles away from the site, meeting the council's ambition to support local businesses and limit the environmental impact of transportation.
The walls, rill and fountain plaza were formed from dense black granite, a reference to the dark grey limestone at the source of the River Aire and a complement to the buff Yorkstone. FSC-certified Iroko hardwood and cast bronze were used for stand alone seats and edges, which were manufactured by another Yorkshire company, Bramhall 1840.
Sovereign Square is making a positive contribution to the quality of public life in Leeds City Centre.
Submitted by: Andrew Price, Director, re-form landscape architecture on behalf of Jane Walne, Head of Projects and Programmes, Leeds City Council
Landscape architect: re-form landscape architecture
Contractor: Eurovia
Soft landscape contractor: Gavin Jones North
Project Manager: NPS (Leeds) Limited
Fountain designer: Fountain Workshop
Artist: Mel Chantry
Street furniture Hess + Bramhall 1840
Stone supplier Hardscape
Tree nursery Ebben
Image credit: Simon Vine
You can visit the Street Design Awards website for further details about the competition.