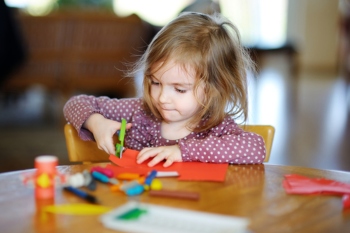 Pre-schools including nurseries must be closed except to educate the children of key workers and those who are vulnerable, union says.
The Government has decided to keep nurseries open during the new lockdown with the Prime Minister promising that 'everyone will still be able to access early years' settings such as nurseries.'
However, Unison has urged the Government to close nurseries to everyone except the children of key workers and those who are vulnerable.
They also stressed the importance of providing more protection to employees in the schools which are remaining open.
'Keeping nurseries and other pre-schools open puts staff and communities at risk,' said Unison's head of education Jon Richards.
'Social distancing is impossible with young children and the government has yet to publish the scientific evidence to justify ?nurseries being treated differently to schools.
'The decision seems ?to have been taken with little regard to the health and safety of ?employees.
'Ministers must treat ?nurseries the same as schools, as in the first lockdown. Staff must be ?a priority?for vaccinations and mass testing.'
Responding to the union's call, a Department for Education spokesperson said: 'Early years settings remain low risk environments for children and staff and there is no evidence that the new variant of coronavirus disproportionately affects young children. Keeping nurseries and childminders open will support parents and deliver the crucial care and education for our youngest children.
'We are funding nurseries as usual and all children are able to attend their early years setting in all parts of England. Where nurseries do see a drop in income from either parent-paid fees or income from DfE, they are able to use the furlough scheme. Working parents on coronavirus support schemes will still remain eligible for childcare support even if their income levels fall below the minimum requirement.'