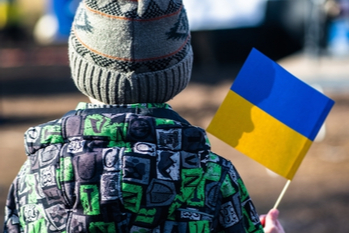 The UK is to take in unaccompanied child refugees fleeing the war in Ukraine with hundreds already on their way to the UK.
Local government sector representatives are understood to have met with ministers to discuss their roles in plans to take in under-18s.
The current Homes for Ukraine and family visa schemes only allow children to enter the country if they are accompanied by an adult.
However, the Government is aware of about 220 children who are travelling alone to the UK to stay with sponsors who are not family members, despite this not being officially permitted.
Another 720 are either travelling with family or joining relatives already in the country, although not all with official parental consent.
Chairman of the Local Government Association, Cllr James Jamieson, said the sector had 'real concerns about the potential for children to come to stay with adults they don't know' and 'any additional new scheme would require already-overstretched councils and children's social work teams to manage a significant level of risk to keep children safe'.
However, he added: 'We are pleased that the Government is working closely with the LGA and councils as we need to develop a robust system that puts in place appropriate safeguards and minimises the risks to children while ensuring we can play our part in supporting the people of Ukraine.'
Under the plans discussed with councils, unaccompanied child refugees would be granted visas to enter the country if they have a sponsor in the UK in the same way as the Homes for Ukraine scheme.
However, unlike the current scheme, sponsors will have to commit to supporting the refugees for up to three years, until they return to Ukraine or until they turn 18.
In addition, accommodation and security checks will have to be carried out in advance and written parental consent provided.
While the Government will carry out some of the checks it will fall to councils to carry out social care assessments and regular checks for the duration of their stay if they are not living with family members.
Councils will have the final say over whether sponsorships can go ahead.
If relationships between sponsors and refugees break down, councils will be tasked with finding another sponsor, returning the child to Ukraine or taking them into local authority care as a last resort.
Steve Crocker, president of the Association of Directors of Children's Services, said: 'Local authorities urgently need robust guidance, and sufficient funding, to support us to keep children safe and to meet their needs, we are disappointed that this was not published as this announcement was made.
'We eagerly await the guidance to understand better what the expectations are for local authorities.'