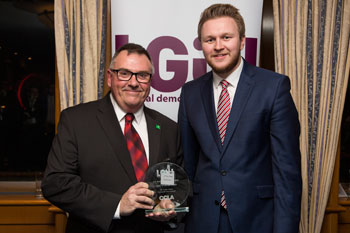 The winners of the 2015 C'lrr Award have been announced, with Tudor Evans from Plymouth City Council securing Leader of the Year Award.
Cllr Jason Kitcat from Brighton & Hove City Council was also recognised for his contribution to local government, with Cllr Lyle Davy from Pendle Borough Council winning Young Councillor of the Year.
The annual awards, organised by the LGiU and CCLA, aim to reward the hard work and dedication of councillors across the country.
Jonathan Carr-West, chief executive of the LGiU, said: 'It is a real privilege to honour the outstanding efforts of these Councillors who work day in and day out to make our communities healthier, our streets safer and our public services stronger.
'The 2015 C'llr Award winners have set the bar for all Councillors with their exemplary leadership and passion for change. We congratulate them and look forward to hearing about their future success.'
The full list of winners are:
Young Councillor of the Year Award - Cllr Lyle Davy, Pendle Borough Council
Leader of the Year Award - Cllr Tudor Evans, Plymouth City Council
Innovation Achievement of the Year Award - Cllr Val Gibson, Wolverhampton City Council
Judges' Special Award for Contribution to Local Government - Cllr Jason Kitcat, Brighton & Hove City Council
Wellbeing Champion of the Year - Cllr Ellie Robinson, London Borough of Newham
Community Champion of the Year Award - Cllr Jackie Meldrum, London Borough of Lambeth
CCLA Local Growth Achievement of the Year - Cllr Kevin Bentley, Essex County Council
Partnership Achievement of the Year Award - Cllr Darren Clifford, Lancashire County Council
DCLG Neighbourhood Planner of the Year - Cllr Gordon Nicolson OBE, Eden District Council
Bruce-Lockhart Membership Scholarship - Cllr Theo Blackwell, London Borough of Camden