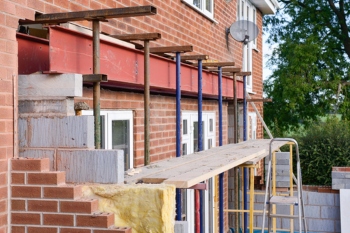 Three councils have designed and are now testing two apps designed to speed up planning applications for housing extensions.
An app for council planners - BoPS- will help speed up the processing of permitted development applications. The other app - RIPA - will enable homeowners and developers to check whether their planning application can be quickly approved.
The apps have been created by Buckinghamshire Councils, Lambeth Councils and Southwark Council as part of the Government's drive towards a fully digital planning system.
Rob Bristow, Lambeth's director of planning, transport and sustainability, said: 'Around half of the planning applications we receive in Lambeth are found to be invalid – mostly because people have difficulty interpreting the complex planning requirements to make valid applications. The RIPA app will guide users through the rules, based on what they want to do and where in the borough their property is, to see whether their plans meet the requirements.
'Along with the BoPS app, which will see a hugely improved back-end system for planners to use in their assessments, these exciting new tools will not only provide an enhanced experience for property owners, they will also enable interested parties such as neighbours to be consulted sooner, and help planning officers process applications more effectively.'
Cllr David Renard, Local Government Association planning spokesperson, said: 'We support measures to make the planning system more accessible and efficient. These new apps are another tool to make it easier for residents to engage in the planning process, which will also help councils to track applications for permitted development across their area.
'However it will be important that there are multiple channels available for all residents to check whether they need to apply for planning permission, as not everyone will necessarily be able to use the apps.'