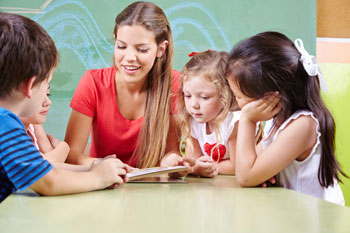 One in 10 nursery workers are being paid below the minimum wage despite nurseries benefitting from Government subsidies, new analysis reveals.
Staff over the age of 25 are entitled to a minimum wage of £7.20 per hour but the Department for Education's own data shows that 10% of nursery workers are not receiving even this much.
Research by the Family and Childcare Trust suggested about 20,000 nursery workers in total are being paid below the minimum wage despite the fact nurseries receive millions in Government funding through free childcare offers and subsidies that help parents meet their childcare bills.
The findings come as the Government is extending the provision of free childcare for three to four year olds to 30 hours a week.
Twenty-two childcare providers have recently been subject to enforcement action from HMRC for non-payment of the minimum wage. However, the charity warned these were just the 'tip of the iceberg'.
'Nursery workers care for and educate the next generation – this important role deserves decent pay. But instead they are being exploited and paid illegal poverty wages,' Ellen Broome, deputy chief executive of the Trust.
'This cannot be right. Central and local government must act immediately to make sure that every childcare worker is paid a decent wage and that tax payers' money does not go to employers who break the law.
'High quality childcare does not come on the cheap. Paying staff at least the minimum wage will help make sure children get the high quality care that sets them up for school and improves their long term outcomes.'