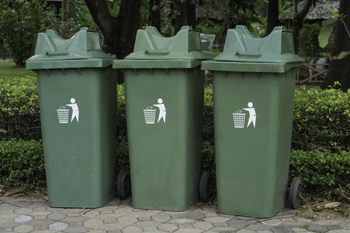 A new survey has revealed that one in three households support councils charging households for disposing of any waste and packaging they don't recycle.
The poll, undertaken for waste management and environmental communications consultancy Pelican Communications, asked 1,000 households what they thought of pay-as-you-throw (PAYT).
While only a third of households supported the idea behind PAYT, 86% hadn't heard of the recycling system at all.
The survey did find that when the potential environmental benefits of PAYT were explained in more detail, support for it almost doubled to over 65%.
UK householders are overwhelmingly in favour of recycling. 89% of the survey respondents said recycling was 'important' or 'very important' to them, and 86% said they are trying to recycle more.
When asked to consider which potential benefits of PAYT appealed to them, 79% said the possibility it would encourage more recycling was the key factor, and 60% saw it as a significant incentive to reduce waste production.
Around 40% of the poll's respondents said PAYT would be fairer on small households and one in three said it was better than introducing a flat fee for waste collection.
However, increased expense, fly tipping and people dumping rubbish in neighbours' bins were cited as key objections by the 29% not in favour of the idea.
Concern that it would not be affordable for people on lower incomes was also a worry given by 62% of those against PAYT.
'This research highlights the importance of winning the hearts and minds of residents for councils considering introducing PAYT,' said Pelican Communications managing director Michael Bennett.
He added: 'Councils need to ensure they make a convincing environmental case for the system, that they are able to demonstrate that such schemes deliver positive environmental results, and that they can be managed fairly and effectively.
'In addition, they need to be very sensitive to the concerns of the third of respondents who are worried about increased costs and the adverse effects on lower income households and ensure the system is equitable.'