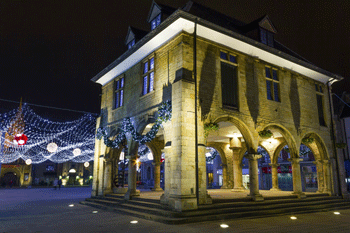 Local authorities are transforming the way they interact with their residents. This is partly the result of austerity and the need to find efficiencies. But it is also due to the global digital revolution that has characterised the last decade.
New technologies, combined with mobile connectivity and social media, have changed the relationship between organisations and their customers, in both the private and public sector.
And this change means people's expectations are not what they once were. No one wants to spend hours wrangling with their council when they are used to (relatively) hassle-free services from the private sector.
It's time, those at the forefront of local government digital transformation say, for councils to catch-up and to become more digital savvy.
And many are. Peterborough City Council is one such innovative authority. The winners of last year's AWS (Amazon Web Services) Global Public Sector Smart City Award, Peterborough has been making great strides in digitisation.
I spoke to assistant director for digital at the council, Richard Godfrey, to find out more. 'In general, what the digital transformation in Peterborough is for is to support the wider transformation programme rather than just doing digital on its own,' Mr Godfrey explains, in a position that is in-line with the council's technology strategy for the 2014-2019 period.
Outlining what it describes as a 'challenging political environment', the strategy warns councils are under pressure to re-think customer strategy, transform business models, streamline business processes, and allow citizens to co-create and personalise council services.
The strategy makes clear the creation of a more flexible, agile and integrated technology infrastructure is an 'essential enabler' for all of the above.
Mr Godfrey points out this kind of transformation can prevent IT being a 'hindrance' to those delivering council services. It's not necessarily about the tech introduced - although this is part of it - it's about the tech being utilised rationally to support those on the front lines. The Cloud, and other such innovations, are simply a means to an end: better council services.
'The technology strategy was driven by a requirement from the rest of the council to do things very differently,' Mr Godfrey explains. 'You might have a property rationalisation plan [for example]. That immediately sets you some challenges, so you have to start thinking about the digital enabler to help that to happen.
'I think too many people do IT and digital for digital's sake, and don't have a transformation plan that they're trying to enable as part of that.'
This point was recently made at a recent round table discussion of chief executives, the majority of whom represented top-tier councils. Held at the Local Government Association (LGA) conference, the meeting saw everyone agree on one particular point: digital should not be confused with ICT. The latter was just one - important - player in the wider transformation programme.
This is a point that needs to be borne in mind when looking at cost. Investing in ICT can be expensive - a point the chief executives made repeatedly at the above-mentioned round table. But the savings should be realised in other areas.
'I've always categorised [efficiencies] in three tranches,' explains Mr Godfrey. 'You've got efficiencies you can drive across the IT estate by moving to cloud, by people not having to do those back office tasks. But actually across the council the savings should be realised through enabling your staff to work more efficiently.'
This might even mean the council has to spend more on ICT. 'None of the business cases I wrote said if we move to cloud it will save 10% of the IT budget,' says Mr Godfrey. 'We might have to move to three different cloud systems. But that would mean housing or someone else can save 10% of their budget which across the council is much higher than just salami slicing the IT budget.'
'The IT spends might actually go up, but the net saving for the council should be much higher,' he added.
Local authorities need to explain this to staff on the front lines, Mr Godfrey says. Many see digital as IT's job and nothing to do with them. But digital transformation 'is there to support them, not to dictate how to do their job.'
'They don't see digital as being part of their role,' he explains, 'But fundamentally they have to understand how it works in order to enable them to have that vision about how they could work in a different way.'
And this goes for everyone working within a council. Describing the chief executive's role in digital transformation, one contributor to the round table discussion said CEO's must be 'part of the architecture for transforming their organisations and places, and unleashing the power of digital is one of the ways they can do that.'
This, effectively, is what Mr Godfrey is getting at. 'Digital thinking has to be across the board,' he concludes. Everyone, not just ICT, has a responsibility to be thinking about how digital can help enable the smooth running of a local authority.