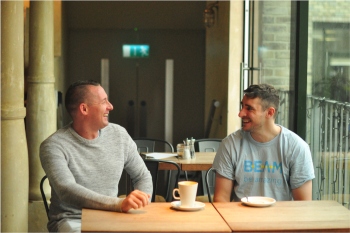 Over the past decade, I've spent my career working in homelessness services. At Thames Reach I worked on the first ever homelessness social impact bond, and later supported clients with drug and alcohol issues at Turning Point. During this time I saw the situation worsen, culminating in the homelessness crisis we see today. This led me to Beam - an innovative social enterprise that uses crowdfunding to support homeless people into stable jobs and homes.
Crowdfunding has been around for some time - think platforms like Kickstarter and GoFundMe. It's become a simple way for everyone to "chip in" and make a contribution online. However, there is little data available on the impact of crowdfunding, especially when applied to social problems like homelessness. In response, we published our first-ever Impact Report, which takes an in-depth look at crowdfunding, how it's being applied at Beam and whether it could be used to solve other social problems - from the refugee crisis to reoffending rates among prison leavers.
Many of the people we support at Beam have been out of work for an average of five and a half years. When they are referred to us by their local council, they are generally living in some kind of temporary accommodation, such as a hostel or women's refuge. They are eager and willing to start work, but face various barriers - ranging from a lack of skills or education to low self-confidence.
When it comes to supporting disadvantaged people into stable work, we found that a crowdsourced approach has many advantages. For example, crowdfunding can provide people with a support network as well as professional connections that they would not otherwise have access to. In the case of Beam, our beneficiaries receive on average 115 messages of encouragement from members of the public when they launch their crowdfunding campaign. On top of that, 72% of people interviewed for our Impact Report said that the social support from strangers contributed to their outcome.
And then there's the financial aspect; crowdfunding can remove specific financial barriers such as the cost of a training course, work tools and childcare support - helping people move more rapidly into skilled, well-paid work. Unlike other crowdfunding platforms, Beam evenly spreads out donations so that every campaign funds and no-one gets left behind. The personal nature of crowdfunding also means the support can be designed around an individual's unique strengths and needs. This flexibility is crucial when it comes to solving an issue as diverse and complex as homelessness. There is no one-size-fits-all approach.
When it comes to outcomes, 76% of homeless people who crowdsource employment support through Beam move into paid work. This compares to just 31% on DWP's Work Programme, and 20% where no intervention is made. The tech-driven nature of crowdfunding also provides greater transparency over outcomes. Whenever someone donates through Beam's platform, they get updates on the person's progress and can see exactly how their donation has made an impact.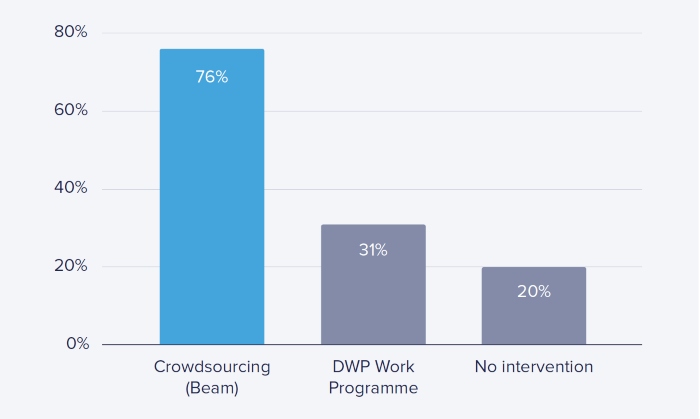 Graph: Percentage who start work with crowdsourced support versus comparisons
One person who has benefitted from a crowdsourced approach is 35-year-old single mum Disha. Until recently, Disha was living with her children in a women's refuge after escaping an abusive relationship. She was keen to regain her independence but didn't know where to start. She told us: 'As I don't work, it's difficult to find accommodation and because I'm on benefits it's hard to find a landlord who will accept us. I've been trying so hard until now but without success.'
When Disha was referred to Beam by Greenwich Council, she told us about her dream of working with children again. Having worked as a teacher in her home country before coming to the UK, she knew it was something she was good at but she lacked the relevant qualifications and needed support finding a job. In just over three weeks, Disha was able to raise £6,347 from 256 members of the public to go on a course and pay for a rental deposit on a flat. She recently started work as nursery assistant and told her supporters: 'Seeing the messages of support from you all has truly boosted my self-esteem and made me stronger.'
Disha is just one of over 300 homeless people who have successfully started work via a crowdsourced approach. What's more, for every homeless person who starts work, the taxpayer saves on average £31,300 due to a reduction in welfare spending and additional taxable income. If a crowdsourced approach was expanded to work with 600,000 people (the number the National Audit Office states are long-term unemployed but close to work), the total savings could be well over £10bn.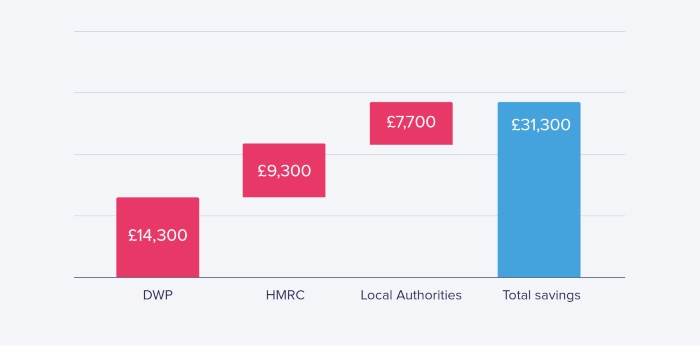 Graph: Cashable savings per person starting work with crowdfunded support
So what are the key learnings for central and local government?
Stimulate innovation in employment services: Employment services are relatively unchanged in the last decade. Beam's progress suggests there is scope for innovation that may lead to improved outcomes and taxpayer savings.
Use technology to enable lower-cost services that tap into the power of the crowd: When it comes to supporting vulnerable people, it's important to combine technology with human-based, personalised services. Crowdfunding is an established approach that harnesses the power of communities to deliver concrete outcomes in a way that is both personalised and scalable.
Further involve the community: A crowdsourced solution works well when it provides a valuable experience for the supporters who come together to provide help. In Beam's case, supporters receive personal updates on the progress of the people they've donated to and 100% of everything they donate goes to the end cause. They also know they are having a long-term impact on someone's life.
Embrace issue-specific crowdfunding as a prevention tool: Early intervention allows people to get the help they need before they become reliant on the council for help. One area where this could work well would be crowdsourcing support for newly arrived refugees.
You can download the full report here, or get in touch directly via seb@beam.org
Seb Barker is co-founder and COO of Beam