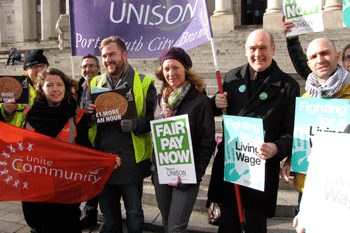 Teaching assistants have lobbied Westminster over plans to pay them only during term-time.
School support staff travelled from Derby down to London last Wednesday in protest at Derby City Council's decision to change their terms and conditions, which would mean they would not be paid for holidays.
As part of an equal pay review last June, the council changed the contracts of teaching assistants in order to equalise the pay and terms and conditions of the council's workforce.
Unison, the public services union, argued this meant the average pay of a teaching assistant dropped from an estimated £21,000 to around £15,000 per year.
Union members were already on strike but they went to the Houses of Parliament to make their concerns known to MPs.
Dave Prentis, UNISON general secretary, left the TUC conference in Brighton to join the teaching assistants.
'These cuts are happening because of the cruel squeeze on finances from Westminster, as the government continues its austerity fuelled war on public services,' he told protesters in Parliament Square.
Derby defended their decision as necessary to avoid any equal pay claims being brought against them.
'The current situation across schools and non-schools staff provides for significant differences in pay and terms and conditions,' they said.
'So it is necessary to align these if the Council is to manage any risk of equal pay claims and to ensure that all staff receive the appropriate terms and conditions.'
The council said that despite the 'challenging financial situation' they offered an improved deal to Unison on 9 September.
'We have offered a lump sum of £2,000 gross – double the previous offer – for those worst affected,' they said.
'We have also taken the exceptional step of offering to reimburse loss of wages through industrial action so nobody is out of pocket. This offer was made on the basis that they would suspend strike action whilst they ballot their members.'
'Our door remains open to Unison but we have a responsibility to all our employees – and that means making a full and final offer which does not undermine the job evaluation programme,' the council added.
Durham County Council is also currently in negotiations over changes to the pay and terms of conditions of their teaching assistants.
The majority of teaching assistants in County Durham are paid for 37 hours per week but are only required to work 32.5 hours. They are also paid for 52 weeks per year rather than term time only.
The council said this leads to the unfair situation where non-teaching employees within the same school are only paid for the hours they work and term time.
It also creates inequality across the council's workforce as a whole, they warned.
Durham has been in negotiations with unions for a year—a process which included two failed consultations.
In May councillors voted to dismiss and re-engage staff on a new contract from January 2017, with one year's compensation for loss of earnings.
In an attempt to avoid this councillors have backed a move to increase the compensation offer, with revised terms from April 2017.
'This review of our teaching assistants' terms and conditions has been a hugely difficult process but one that we had a legal responsibility to deal with,' said the council's cabinet member for corporate services, Cllr Jane Brown.
'This brings us in line with the majority of other councils who have already addressed this issue.
'The simple facts are that continuing with the existing terms and conditions is not possible due to the significant inequality and the associated financial risks of equal pay claims from other council staff.'
The council emphasised the move was not a 'cost-cutting exercise'.
'To clarify once and for all any savings from the move to term time contracts would be retained in school budgets and not return to the council,' said Cllr Brown.