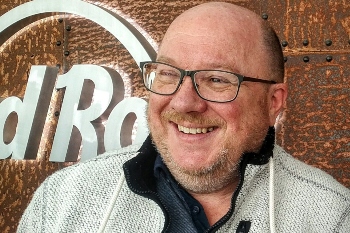 The UK's road network is worth hundreds of billions and is the country's most valuable national asset. Yet many local authorities find themselves managing assets by reacting to deterioration and community demands, caught in a continuing cycle of ever declining asset condition.
Sometimes known as a 'worst first' or 'chasing the red' style asset management, it can have serious financial impacts:
Reactively repairing potholes and deterioration is more costly than preventing it with systematic maintenance
The older the assets, the more frequently the surface breaks down
More spent on reactive asset maintenance means less money available in the future for planned upgrades and renewals
The cornerstone of asset management is the ability to see, understand and respond to not just what is happening now in the asset base, but also to what will happen in the future. However, engineers with the necessary experience and skills are in short supply in local authorities and being replaced by administrators.
Compounding the problem, many local authorities work with disparate systems and databases, often storing multiple asset registers in different formats or on spreadsheets. This makes it difficult to gain a clear view of all highway assets, their value, current condition and maintenance status.
Without that data, how can local authorities develop effective preventive maintenance schedules, or plan for upgrade or renewal of infrastructure, or get an accurate picture of asset maintenance costs?
There is increasing recognition at both regional and central government level that innovative technologies are the key to advancing road asset management strategies. From artificial intelligence (AI) to cloud technology, solutions are available to help organisations with asset management and make decisions with more accuracy and cost efficiency.
An asset management system (AMS) provides a holistic view of an asset lifecycles—from procurement and implementation through to repair and renewal. Using an AMS facilitates analysis of data specific to each asset, so better-informed decisions can be made about the individual asset and management of the whole network. This allows local authorities to focus on preventative maintenance to increase the value of assets and improve performance in the long-term, instead of a 'chasing the red' strategy that decreases the value and increases long-term maintenance costs.
However, not all technology is created equal. I have been working in this area for over 40 years and observed asset management systems all over the world. Most of them continue to define defects on a deterioration curve rather than assessing risk.
I have recently been working with working with data from West Sussex County Council and software company Probit to trial AIM – Asset Investment Manager, which takes a different approach to the risk factor of assets. This system combines various datasets to generate risk maps, which can be configured to support decision-making on strategic, tactical and operational expenditure.
Data is gathered from multiple sources including traffic speed surveys such as SANNER and TRACS vehicles; visual inspections and skid-resistance tests. The graphical representation is easily understood by stakeholders, asset managers and modellers alike, even when they are not familiar with highways engineering.
AIM looks at how the asset base performs now and anticipates how it will perform in the future; how future expenditure may impact on service risk; and the value it delivers to the end-user.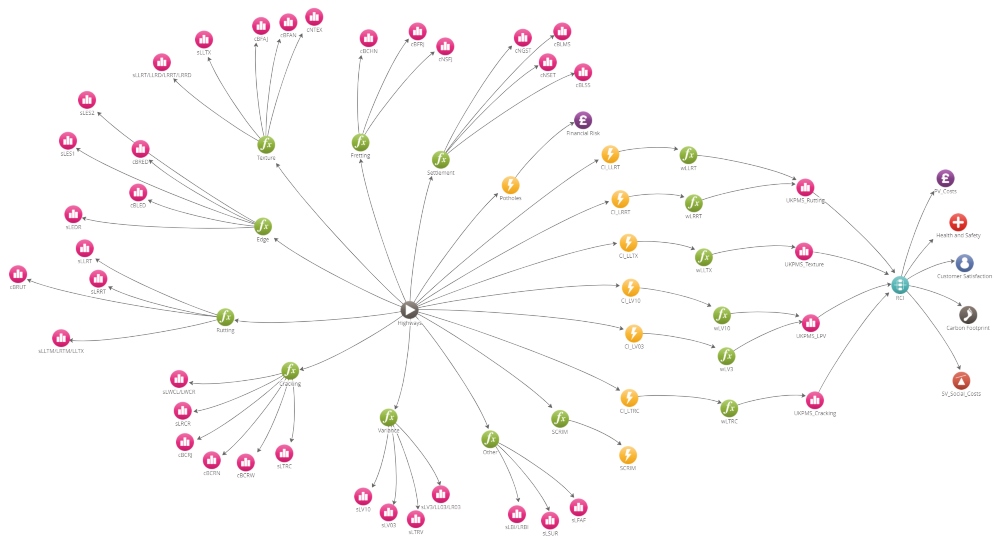 Photo: Risk maps in Probit's AIM platform show assets along with their level of deterioration, service impact relationship, intervention costs and benefits
These risk maps help users - whether that be engineers, government bodies or members of the public - to quickly visualise what risk and value look like for each asset type and help drive consistency in approach and transparency between asset types. Importantly, this falls much more in line with the UK Roads Liaison Group's Well-Managed Highway Infrastructure code of practice, which came into force in October 2018.
The code reads: "Authorities should adopt a risk-based approach and a risk management regime for all aspects of highway maintenance policy. This will include investment, setting levels of service, operations, including safety and condition inspections, and determining repair priorities and replacement programmes. It should be undertaken against a clear and comprehensive understanding and assessment of the likelihood of asset failure and the consequences involved." [A.2.5.1].
Of course, technology alone cannot solve these complex issues. AIM can be a primary tool, but it needs the will at both local and central government level to see a widespread move away from the 'worst first' system.
I have seen roads that were constructed right at the beginning of my career that are still serviceable now, even though they had a 20-year design life, and others that fail five years after construction. Climate change will only compound these issues as higher temperatures, more frequent and prolonged droughts and increased flooding will cause a greater occurrence of severe damage to the road network.
Effective highways asset management is about managing roads and resources in the most efficient and sustainable manner possible, for the long-term. I believe the potential of Probit's AIM technology will be critical in generating the step-change from worst first to data-driven decisions.
Steve Batchelor is a highways consultant