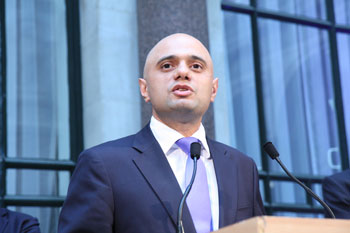 Communities secretary Sajid Javid has given the go-ahead to create two new 'super districts' with the councils in Suffolk.
In a written ministerial statement, the Mr Javid announced the merger of Forest Heath District and St Edmundsbury Borough Councils to create West Suffolk.
Suffolk Coastal and Waveney DCs will also become a single authority, East Suffok. Mr Javid said: 'I'm delighted to announce these locally-supported mergers that are the culmination of years of collaboration.
'They mark the first time these powers have been used in this way and herald an exciting new era for district councils – where they decide for themselves how best to deliver high quality, cost-effective services, now and in years to come.'
The authorities will be set up in shadow form from 2018, set up under secondary legislation, before coming into force on 1 April 2019.
Forest Heath DC councillor James Waters, said: 'Doing what is right for our communities is always at the heart of what we do and is the reason we are creating this new West Suffolk Council.
St Edmundsbury BC leader, Cllr John Griffiths, said: 'We are already a success story and this is the next chapter in transforming what we do, to better meet the needs of our communities and businesses.'
In a joint statement, the leaders of Suffolk Coast and Waveney DCs, Cllr Ray Herring and Mark Bee, said: 'Although this announcement is a national first, for us in east Suffolk it is the next logical step on a decade-long journey.
'We are used to breaking new ground, as we have been finding innovative ways to cut costs and manage our business since Suffolk Coastal and Waveney started working in partnership 10 years ago.
'We have already made over £18million in efficiency savings and halved our joint workforce, while still investing in our communities. The creation of an East Suffolk Council will enable us to build on this decade of co-operation to give greater value for money, while continuing to improve service delivery.'