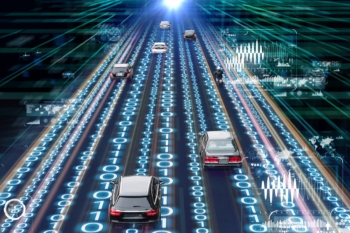 Roads that can repair themselves and an automated cone laying machine are some of the initiatives outlined today to create a 'digital revolution' in highways.
The National Highways' Digital Roads strategy sets out the Digital Roads 2025 vision and includes plans for a virtual twin of the road network to predict the time and location of potholes and other maintenance issues.
It also outlines how intelligent road materials will be able to repair themselves, sensor technology to forecast traffic levels, weather and environmental conditions, and the deployment of connected and autonomous vehicles.
National Highways executive director of strategy and planning, Elliot Shaw, said: 'We are at the beginning of a digital revolution on our roads network, a once-in-a-century transformation which will fundamentally change how our roads are designed, built, operated and used.
'The Digital Roads journey, the strategy that will create the roads of the future, is huge. It covers every aspect of the roads infrastructure from design and construction, to how roads are operated to the changing experience for all road users.'