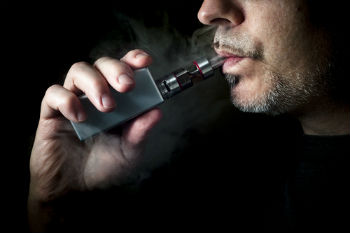 Local stop smoking services and healthcare professionals should provide behavioural support to those smokers wanting to quit with the help of an e-cigarette, public health body says.
Public Health England's (PHE) new e-cigarette evidence review has revealed vaping poses only a 'small fraction' of the risks of smoking and switching to electronic cigarettes provides 'substantial health benefits' for smokers.
The report, which was undertaken by leading independent tobacco experts, found there was much public misunderstanding about nicotine.
According to PHE's findings, less than 10% of adults understood most of the harms to health from smoking are not caused by nicotine but mostly come instead from tar and other carcinogenic chemicals.
This misunderstanding has lead many thousands of smokers to incorrectly conclude vaping is as harmful as smoking. PHE found around 40% of smokers have not even tried an e-cigarette.
Despite this, the national health body said e-cigarettes could be contributing to at least 20,000 successful new quits per year and advises local stop smoking services recommend the use of e-cigarettes to those trying to quit.
The report also concluded that the evidence does not support the concern that e-cigarettes are a route into smoking among young people.
'Every minute someone is admitted to hospital from smoking, with around 79,000 deaths a year in England alone,' said Professor John Newton, director for health improvement at PHE.
'Our new review reinforces the finding that vaping is a fraction of the risk of smoking, at least 95% less harmful, and of negligible risk to bystanders.
'Yet over half of smokers either falsely believe that vaping is as harmful as smoking or just don't know.
'It would be tragic if thousands of smokers who could quit with the help of an e-cigarette are being put off due to false fears about their safety.'