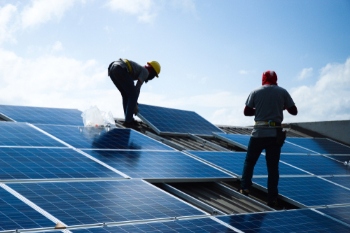 Schools and public buildings in Wales are set to have solar panels installed as part of the Welsh government's efforts to promote community owned renewable energy.
Three schools, a care home and a crematorium in Newport will be among the first buildings to have solar rooftop panels installed.
The panels, which will produce two megawatts of electricity, will be installed by solar cooperative Egni, after being awarded nearly £2.35m in funding, and are projected to save 3,700 tonnes of carbon.
Deputy climate change minister Lee Waters MS said: 'Community owned energy builds local energy resilience through cleaner, greener means – vital in our efforts to reach a Net Zero Wales by 2050, and help schools, hospitals and communities protect themselves against rising living costs.'
Egni, which will own and manage the panels, has already connected solar panels producing 4.3MW of energy to almost 90 buildings in Wales.
Dan McCallum from Egni Co-op commented: 'Egni is already the largest rooftop solar co-op in the UK which shows how a cooperative approach can enable Wales to achieve great things.
'It's vital that co-op based renewable energy scales up rapidly. Renewables are our energy of freedom and Welsh people deserve a future free from fossil fuels.'