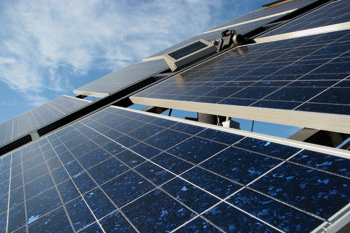 A solar farm developed by a council-owned company is set to be built near Swindon.
The project, said to be the first of its kind in the UK, was developed by Public Power Solutions, a company owned by Swindon BC.
It will be operated by a Wiltshire Wildlife Community Energy, a community benefit company which will reinvest any profits locally.
James Owen, commercial director of Public Power Solutions, said the scheme was 'a perfect example of a shared ownership solar project'.
'Solar should be a no-brainer for local authorities, helping them generate revenue through rent, business rates and investment opportunities, while saving taxpayers' money on council energy bills.'
It is expected to generate enough electricity to supply the equivalent of 1,400 typical homes when it is connected to the grid in January.
Meanwhile Forest Heath DC in Suffolk has ditched plans to invest in a solar farm.
It decided not to sink £14.4 million in the planned project after due diligence checks highlighted several risks.
Cllr Stephen Edwards, cabinet member for resources and performance, said: 'In the commercial world a business will look at an investment and weigh up the risks involved before deciding whether to invest its money.
'West Suffolk councils are no different. Our major source of funding via central government has been almost halved in the last two years and we have to be realistic and expect further reductions in the future.'