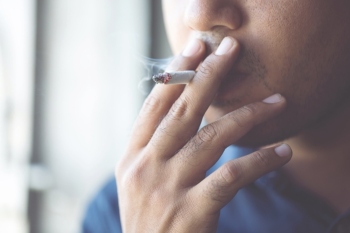 Smokers in England need care 10 years sooner than non-smokers, which places a considerable burden on local social care services, research reveals.
The analysis, by Landman Economics for Action on Smoking and Health (ASH), finds that 1.5 million people need help with everyday tasks, such as dressing, walking across a room and using the toilet due to smoking.
This high level of social care needed has a significant impact on local authority social care budgets, ASH warns.
It is estimated that 102,500 people are receiving local authority funded care as a result of smoking (85,000 in their home and 17,500 in residential care). This adds up to £1.2bn each year, equivalent to 8% of the country's social care budget for home and residential adult care.
'This report reveals the shocking extent to which smoking damages the quality of people's lives, and of those around them, before going on to kill them prematurely,' according to Deborah Arnott, chief executive of ASH.
'On average smokers need social care at 63, ten years earlier than non-smokers, so if the Government truly wants to extend healthy life expectancy by five years by 2035, ending smoking is a priority.
'However, achieving the Smokefree 2030 target won't be easy and requires investment at a time when the Government has a massive budget deficit. Tobacco manufacturers on the other hand remain extremely profitable and should be made to pay a levy on their sales as they do in the US, to help make smoking obsolete.'
Cllr Ian Hudspeth, chairman of the Local Government Association's (LGA) Community Wellbeing Board, said: 'The substantial impact smoking has on council finances and social care costs reinforces the case for urgent investment to reduce smoking and achieve the Government's ambition of a smokefree country by 2030. Public health funding has not kept pace with funding for the NHS and this must change if local government is to play a full role in improving the health of the nation.
'The forthcoming Spending Review must be the moment to put public health and social care on a sustainable footing so that councils can continue their vital work in supporting, promoting and improving people's wellbeing.'