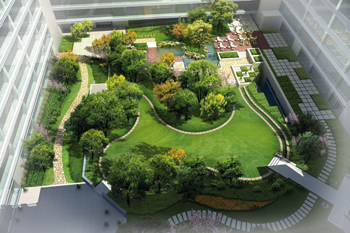 Over half of the world's population now lives in a city and the UN predicts that this will rise to almost 70% by 2050. In Europe 73% of inhabitants already like in cities, which is estimated to rise to a staggering 80% over the next three decades.
These urban dwellers are the world's economic drivers and already generate an estimated 80% of the global GDP. It is the management of these urban environments though which can present a multitude of challenges.
By adopting innovative technologies and managing the urban environment in a holistic way, cities are better placed for the growth of the future. Smart cities are already appearing across the globe. These urban environments are developing strategies to remain economically and socially competitive in an increasingly globalised market, which includes the installation of smart city technologies. These technologies can provide better ways of managing the city, whilst providing a whole range of new services to residents.
Traffic and pedestrian flows, air pollution levels and disturbances can all be monitored through real-time data, creating opportunities to manage situations as they arise. By combining a Wi-Fi infrastructure with IP cameras, sensors and smartphone apps, a holistic approach can be taken across a city.
Innovations in street lighting already deliver smart technology, with new generation web-based control, monitoring and management systems saving up to 40% on energy costs through the implementation of energy-efficient strategies, based on location and activity.
Although illumination is its primary function, this street light infrastructure is ideally placed to enable a full range of additional services to be delivered through the network, which is already connected to the power supply and the internet 'cloud'. Street light columns, distributed throughout a city, offer the perfect gateway for the smart city control system.
This could be utilised in many different ways. The flow of traffic could be monitored in real-time, enabling alternative strategies to be implemented to combat congestion.
This would help to reduce pollution, as well as saving residents time and reducing fuel consumption. In addition, smart parking could send space availability information directly to drivers' smartphones. With 30% of congestion in cities cause by drivers trying to park, this would assist in helping drivers in the short term, and through generated data, assist town planners in the longer term. Drivers could also pay for parking through a smart grid, hosted in the street lights' secure public wireless network, another great benefit for time conscious residents.
Traffic control and smart parking are just two of the functions possible in a future smart city. Through creating an infrastructure, street lighting could play an integral part in a smart city, not only helping to reduce energy costs through the intelligent control of street lighting, but also by providing the gateway to an integrated, holistic city-wide control system.
Harvard Engineering's LeafNut is one of the first proven technologies in the smart cities evolution and has already been installed by over 100 local authorities across the world.
Russell Fletcher is sales and marketing director at Harvard Engineering