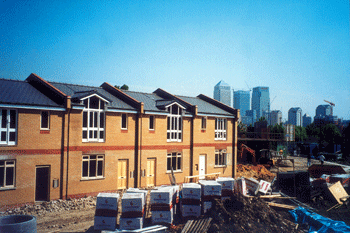 The Government has launched a nearly £40m fund in an attempt to kick start a 'green housing revolution' in the north of England.
The Government's housing agency Homes England has announced funding deals worth £38.2m with six local authorities to speed up the construction of 2,072 homes across the country.
The funding will be used to get 13 sites ready for the development of new homes. The homes would be built using Modern Methods of Construction (MMC).
The deals are the latest to be awarded through the £350m Local Authority Accelerated Construction programme, which was launched to accelerate the delivery of council housing schemes and encourages the use of MMC.
During a visit to Factory 2050, part of the University of Sheffield Advanced Manufacturing Research Centre, the housing minister Esther McVey said the Government aimed to build a new 'centre of excellence' for MMC in the north.
'We must invest in this new technology. It's as simple as that,' she said.
'The benefits are clear. Some modular homes can be built in a factory over a week. And assembled on site in a day. Industry has told us some homes built using modern methods can have 80% fewer defects and heating bills up to 70% lower.
'Homes built using modern methods can be of higher quality, greener and built to last. I want to see a housing green revolution. In the north of England where the first industrial revolution began.'