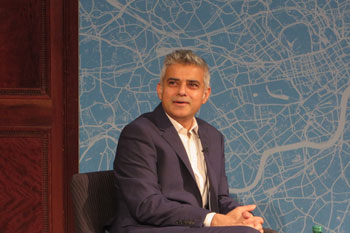 Seven boroughs from across the capital have been invited to City Hall to present their bid to be the next London Borough of Culture.
Croydon, Greenwich, Hounslow, Lewisham, Haringey, Hammersmith & Fulham, and Sutton will compete to become the London Borough of Culture for 2021 and 2023.
The two winners will each be awarded £1.35m to deliver a programme which places culture at the heart of their communities and celebrates local people and places.
The competing boroughs can also win Cultural Impact Awards, each receiving up to £200,000 to deliver cultural projects.
The London Borough of Culture initiative was launched by the Mayor Sadiq Khan and was inspired by the UK City and European Capital of Culture programmes.
The London Borough of Culture in 2019 was Waltham Forest, whose programme included more than 1,000 cultural events, workshops and activities across the year, and involved all 88 schools in the borough.
Mayor Khan said: 'We created the London Borough of Culture to give Londoners a chance to create and enjoy world-class culture on their doorstep.
'Waltham Forest's programme has shown its power to bring together communities and inspire young people, and Brent's exciting programme for 2020 is set to continue this success. We look forward to hearing more about boroughs' bold plans for 2021 and 2023.'
Cllr Clare Coghill, leader of Waltham Forest Council, said: 'Our London Borough of Culture year has exceeded all of my expectations; the creative community of Waltham Forest showcased its incredible talent to London and the rest of the world and I couldn't be prouder of the results.
'Throughout the year I have seen first-hand the transformative power of the arts and the role it can play in bringing together communities against a backdrop of division and uncertainty.
'In 2019, culture has been at the heart of Waltham Forest Council's work to change residents' lives for the better and the impact of that investment has been phenomenal.
'From our wonderful volunteers to the thousands of young creatives in our local schools, I know the future success of Waltham Forest has been shaped by the experiences and skills gained during our year.'