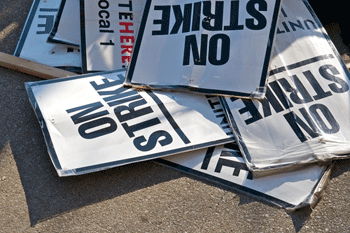 Councils in Scotland have been put on notice as Unison ballots members over industrial action.
The trade union has formally notified councils of the move in an escalation of pay negotiations with the Convention of Scottish local Authorities (COSLA).
Earlier this year, Unison voted to reject an offer of an £800 increase for staff earning under £25,000, a 2% uplift for those earning £25,000 to £40,000 and a 1% rise for those earning up to £80,000.
Ballot papers will be sent to all members employed in school cleaning, school catering, school janitorial and waste and recycling services on September 1.
In a letter to COSLA, Unison Scotland's head of local government, Johanna Baxter, wrote that members were 'at breaking point' and 'worth more than what is on offer'.
A COSLA spokesperson said: 'We appreciate everything that local government workers have been doing, and continue to do, to support people and communities during the pandemic and as we begin to recover.
'We continue with ongoing constructive negotiations.'
Inverclyde Council leader, Cllr Stephen McCabe, said it was 'disappointing' the union had moved to a ballot but added that he would 'fully respect their right to do so'.
He added: 'The offer made by COSLA is already more than the council has budgeted for and was made despite a cut in our core grant from the Scottish Government.
'Unison and the other trade unions should join with COSLA and council leaders in a call to the Scottish Government to provide funding for an improved pay offer.'