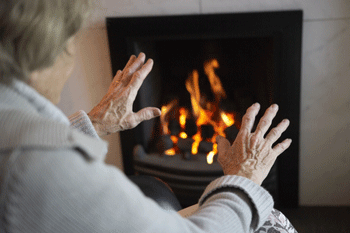 A Holyrood committee has called on the Scottish government to eradicate 'extreme fuel poverty' over the next two decades.
The Local Government and Communities Committee has published a report on the Fuel Poverty Bill that will soon be presented to MSPs.
The Bill sets a target of no more than 5% of households living in fuel poverty by 2040. The previous target, which aimed to eradicate fuel poverty in Scotland by 2016, was not met.
While the committee welcomed the new aim, they called for a separate target to focus on people living in 'extreme fuel poverty' - those spending more than 20% of their income on fuel.
'We know that Scotland is an energy-rich country, yet during our evidence we talked to people who faced the impossible decision of either feeding their families or heating their homes,' said the committee convenor James Dornan MSP.
'The stark reality is that over a quarter of households in Scotland still face extreme difficulties heating their homes, and this can rise to well over double that in rural and island communities.
'The committee welcomes the Fuel Poverty Bill's core purpose, which could make a real difference to the life of thousands of Scottish families. However, the longer-term ambition should be the eradication of fuel poverty.'
The committee also called on the Scottish government to ensure the Bill takes into account the reality of living in islands and remote areas, including much higher living and travel costs.