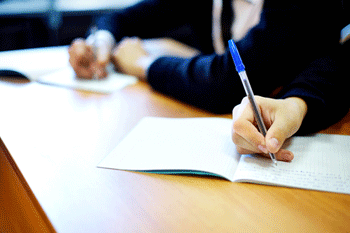 Thousands of children in the East Midlands are being exposed to poor standards in education, according to the schools watchdog.
Ofsted's chief inspector, Sir Michael Wilshaw, has warned that educational provision in the East Midlands is 'distinctly second division', with it being the worst performing division on a range of key indicators.
Sir Wilshaw blamed a culture of complacency and a lack of clear accountability for the poor educational performance of towns and cities across the region.
Figures show that the East Midlands is currently the joint lowest performing Ofsted region in terms of inspection outcomes, with almost one in three secondary schools judged less than good at their last inspection.
The region also had the worst GCSE results in England last year, with nearly 46% of pupils not achieving the benchmark five or more A* to C grades.
Ofsted's regional director for the East Midlands, Chris Russell, has also published an open letter today highlighting concerns about the low standards of achievements across Northamptonshire.
Sir Wilshaw said: 'These statistics should serve as a wake-up call. The poor quality of education in many parts of the East Midlands often passes under the radar as attention is focused on underperformance in the bigger cities of the North and West Midlands, like Manchester, Liverpool and Birmingham.'
'The chief inspector pointed out that there are very few high performing multi-academy trusts (MATs) in the region, while the support and challenge to schools from local authorities has not led to rapid enough improvement.'