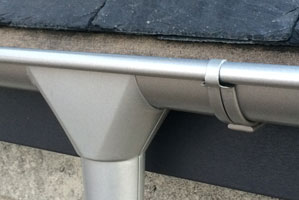 Saint-Gobain PAM UK, part of international materials company Saint-Gobain, has added a high quality steel system, called Cyclone, to its range of rainwater and gutter products.
Ideal for traditional and modern buildings in both new build and refurbishment applications, the new, lightweight Cyclone range offers a cost-effective alternative to plastic gutters, with the strength and longevity of a steel system.
With no risk of shrinking, leaking or colour fading over its guaranteed life, the steel system is easy to install with no specialist tools or skills required. In addition, very little maintenance is needed, only the general industry recommended twice yearly cleaning of any debris collected in the gutter, and washing down with warm soapy water.
Steel rainwater systems are the material of choice for Scandinavian markets and as such are robust enough for use in extreme weather conditions and temperature ranges.
The Cyclone range is coated with a high build polyester paint "Prelac Nova RWS" produced by SSAB, combining the benefits of polyester coatings, which ensure resistance to corrosion, and the merits of galvanized steel, which provides high strength.