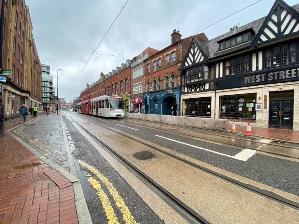 Safety barriers have been installed near a Sheffield city centre tram line to protect pedestrians and pub-goers.
Hardstaff Barriers installed the temporary concrete barriers along a 40-metre stretch on busy West Street in the city, where many bars and restaurants are located.
The project was carried out on behalf of Amey, which operates the Streets Ahead Highways Maintenance and Management service across the city, for Sheffield City Council.
The huge city-wide 25-year highway maintenance project will see Sheffield's roads transformed.
The safety barriers will separate pedestrians from the road and tram line, providing protection from passing trams and vehicles, particularly during busy times.
The barriers will also allow pedestrians to socially distance safely without the risk of walking into the path of a vehicle.
The concrete barriers, which each weigh 2500kg, provide a safer and more robust alternative to plastic barriers.
Dave Todd, Executive Director of Hardstaff Barriers, said: "It's a pleasure to be involved in a project that will clearly make this area so much safer for pedestrians.
"At this time, people are trying their best to keep themselves and others safe in relation to COVID-19, and these measures will help to protect people further as they get out and about in the city."
Hardstaff Barriers has produced a useful guide on pedestrianisation that can be found here: www.hardstaffbarriers.com/wp-content/uploads/2020/08/Pedestrianisation-Security.pdf