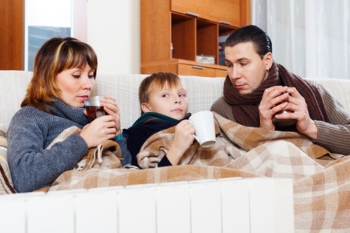 New research has highlighted 'glaring disparities' on fuel poverty levels across England.
New analysis of fuel poverty data by Friends of the Earth found the West Midlands, Yorkshire and the Humber, and the North East had the highest proportion of neighbourhoods ranking poorly for fuel poverty, while the South West and South East had the lowest.
It found 41% of neighbourhoods in the West Midlands are rated worst for fuel poverty compared to just 1% for the South East region.
The local authorities with the highest number of neighbourhoods scoring poorly for fuel poverty were Newham, Stoke-on-Trent, Barking & Dagenham and Wolverhampton.
The research also found that people of colour were twice as likely to live in fuel poverty than white people.
Mike Childs, head of research at Friends of the Earth, said: 'Everyone deserves to live in a warm home, no matter where they live, how old they are or what kind of house they live in. But this research paints a stark picture of the many ways fuel poverty discriminates according to race, disability and the places people live. Fuel poverty is the product of poorly insulated homes and soaring energy costs, and is as much a health issue as it is a climate one.
'Rapid progress is needed to lift people out of fuel poverty right now. This can be achieved by ensuring every home is well insulated, in the meantime offering greater financial support to those who need it so that no one goes cold this winter.'
Friends of the Earth is calling on the Government to introduce a Windfall Tax on fossil fuel companies to fund home insulation and support people in fuel poverty.