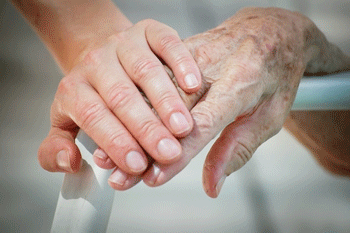 Older people are often too afraid to complain about the level of care they receive, worrying a complaint will make the situation worse, a new report has warned.
Breaking down the Barriers, published by the Parliamentary and Health Service Ombudsman, found that many older people did not have the knowledge of confidence to raise the alarm when something goes wrong with their care.
The report revealed that over half of those aged 65 and over said they did not complain in case it had an impact on future treatment, with a third saying they did not think making a complaint would make a difference. Nearly one in five of those over the age of 75 did not also know how to make a complaint, according to the survey
Parliamentary and health service ombudsman, Julie Mellor, said: 'Older people are some of the most frequent and vulnerable users of health and social care services but are the silent majority when it comes to complaining.
'Their reluctance to complain could mean that they are suffering in silence and could lead to missed opportunities to improve the service for others.
The report calls on all social care providers to make older patients aware of how to complain and make it clear that their future care will not be compromised if they complain.