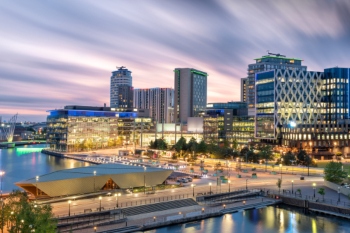 Cities have been hollowed out by COVID but they are still best placed to drive the recovery, a report by economic growth specialists Metro Dynamics has said.
An exodus of 229,000 workers to rural areas – and what the report terms as 'Zoomshock' – has hit cities, but the report offers a blueprint to boost post-pandemic economic recovery.
Commissioned by Core Cities and Key Cities, the report calls for greater collaboration between central and local government to tackle job losses, economic inequality and the climate crisis. It also calls for strengthened partnerships at city level with local businesses, anchor institutions and investors.
And it claims the alternative would mean 'long-term scarring that could drag cities back decades', with increased unemployment and health inequalities, a revenue crisis and rising needs and service demands.
Chair of Key Cities and deputy leader of Salford City Council, Cllr John Merry, said: 'If COVID-19 has taught us anything, it is that going back to the way things were is not an option.
'Only new, locally-led, solutions will work in a world changed forever by the pandemic.'
Core Cities chair, and leader of Newcastle City Council, Cllr Nick Forbes, added: 'If we want cities to drive recovery, we must listen directly to those who run and represent those places, who are closest to the lived experiences of residents and aware of the obstacles and opportunities for progress.
'The inclusive renewal deal in our report sets out in practical terms how, by working together, we can find solutions to systemic problems like unemployment, poor health and inequality and change society for the better.'
Recommendations in the report include:
The levelling up white paper should support new powers for cities, and offer further devolution
Government should work with cities on devolution deals with funding and joint delivery
Skills and training initiatives should be devolved to cities
Housing and regeneration funding should be linked, and Homes England's remit should include regeneration.