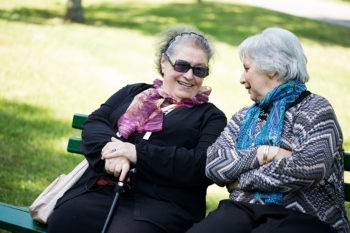 Safer and more welcoming public spaces would help people reconnect post-COVID-19, MPs and peers have argued.
A new report from the All-Party Parliamentary Group (APPG) on Loneliness calls for a 'connected recovery' from the pandemic and for urgent action to be taken to tackle the root causes of loneliness and isolation.
The report calls for new housing developments to be 'loneliness-proof', investment in community and social infrastructure so people have places to go to where they can reconnect, and sets ambitious targets to close the digital divide.
A survey conducted by the British Red Cross shows that around two-in-five adults are more worried about their feelings of loneliness than they were before the pandemic.
Three out of ten UK adults say a lack of facilities like public toilets, local bus services or accessibility adaptations will prevent them from meeting people when restrictions lift.
Neil O'Brien, chair of the AAPG and Conservative MP for Harborough, said: 'Practically, people who lack strong support networks have struggled to access food or medicines when they've needed to shield or isolate. Emotionally, their confidence and spirit have been knocked.
'Yet the pandemic has also shown us the power of connected communities. No matter where you live, neighbours and other quality connections – including those on the internet – have mattered.
'This means more public toilets, better street lighting, ramps and quiet safe spaces, so that everyone from all ages and all backgrounds has the facilities they need in order to make valuable friendships in their area.'