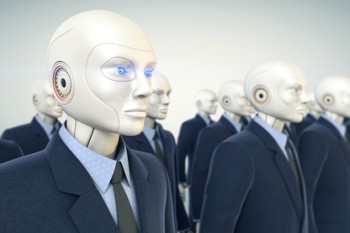 The digital revolution is driving an increasing reliance on self-service technology, machine to machine (M2M) communication and AI (Artificial Intelligence) across every industry – including the public sector. Recent research conducted by OpenText revealed that two thirds of UK citizens (66%) believe "robots" will be working in government within 20 years. In fact, 16% think this could happen within the next 1-2 years.
Some local councils – such as the London Borough of Enfield – are already embracing this shift. Last year, Enfield collaborated with IPsoft to develop Amelia, robot technology dedicated to frontline council services, such as taking resident queries or authenticating licenses.
Through AI and cognitive computing, government departments can lessen the burden of administrative tasks while gaining faster access to sophisticated insights, empowering them to make better decisions for citizens.
Benefits of an AI age
The volume of information available today continues to grow exponentially. By deploying technology to successfully navigate and manage these huge quantities of data, both structured and unstructured, local councils can speed up services, improve frontline services and reduce human error.
British citizens can already anticipate the advantages. In our recent survey reduced waiting time was seen as the biggest benefit to employing robot technology in government, with nearly a quarter (24%) of the 2,000 respondents stating this was the main area where robot technology could add value.
Nearly one in five (19%) also believe there would be fewer errors in government processes with the adoption of AI technology in the public sector.
AI implementation: gAIning citizens' trust
Despite the many benefits, there is general unease that the rise of robots in the public sector could threaten jobs and lead to a world where major decision-making, at policy level, is decided by robot technology rather than humans.
While it is true that jobs will be impacted by the general shift towards automation, this disruption is not something we should fear. There is a significant upside for public sector employees. From a productivity perspective, we spend a third of our time in the workplace collecting and processing data. AI could all but eliminate this work, freeing staff up from time consuming admin tasks and allowing them to focus on more strategic or creative tasks.
Furthermore, we are seeing a shift in UK citizens' view of AI technology. More than one in four (26%) now think that robot technology would make better decisions than elected government representatives. However, 35% of UK citizens do not think robots can factor in cultural aspects when it comes to making a decision, meaning humans should continue to make the final decisions – albeit enhanced with the quality data insights AI makes possible.
The future of AI in local government
The introduction of technology like Amelia reflects the global shift to AI filtering through to the public sector. Forrester has predicted that investments in AI will grow 300% this year while Gartner forecasts that 50% of all analytical interactions will be delivered via AI in the next three to five years.
Local councils need to take a close look at their processes and pinpoint where automation and AI can make the greatest impact. By embracing this technology and demonstrating the benefits to residents, local councils can ensure they are not left behind in today's digital revolution.
Mark Baillie is director (public sector, UK & Ireland) at OpenText