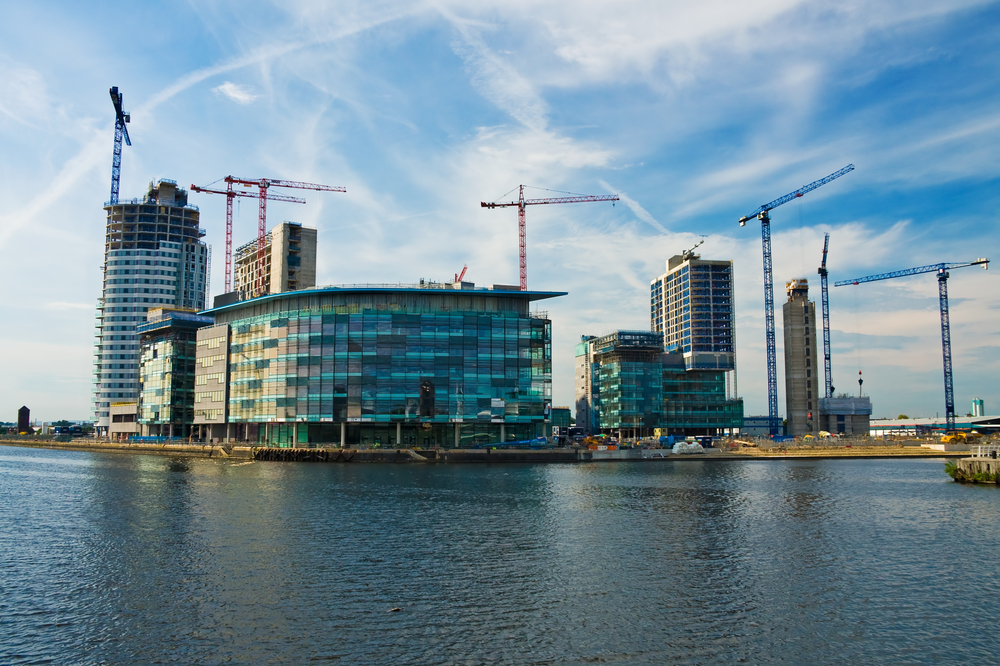 The UK's regional cities are experiencing record levels of construction activity as real estate surveys reveal 'buoyant' developer sentiment.
The latest Deloitte Real Estate Crane Survey series, which review construction levels in city regions and is seen as a barometer of developer sentiment and future supply, found a 'significant uptick in development' in Birmingham, Manchester, Leeds and Belfast.
In Birmingham 1.4 million sq ft of new office space is under construction - a 50% increase on the previous year (969,000 sq ft). This is the highest level of activity since the report was first published in 2002.
The West Midlands city has also witnessed a 10-fold increase in residential schemes starting construction last year, totalling 2,331 units in the city centre.
Manchester's city centre also saw a record 22 residential projects breaking ground on site last year. This was eight more than the previous high of 14 in 2007 and is scheduled to deliver nearly 7,000 units to the market.
Manchester has also seen the addition of four residential towers over 25 storeys high, including the UK's tallest residential tower.
There were also 20 major construction schemes completed in 2016 in Leeds. This included the highest level of office space (over 700,000 sq ft) delivered to market since 2007, and six new office starts.
Leeds also experienced an upsurge in new shopping areas. The city saw a doubling of the average annual total of retail space with nearly 600,000 sq ft brought forward in 2016.
However, the survey revealed city centre residential construction remains modest in Leeds with only three new residential schemes starting last year.
In Belfast there are 19 schemes under construction with 11 completing in 2016. This included four new educational facilities, seven new student accommodation projects, six office developments and eight new hotels.
There were also 84 residential units were completed in the city centre last year.
'The results of our four crane surveys reflect the growth and resurgence in the regions, breaking records set more than a decade ago,' said Simon Bedford, local government development partner at Deloitte Real Estate.
'Sentiment towards city centre development is buoyant with residential rising to new levels, quite literally in Manchester, with the addition of towers that will alter the city skyline.
'The unparalleled scale and volume of development in the regions prompted us to monitor a further city. Belfast's development pipeline is in good shape and we expect to see even more cranes there in 2017.
'All sectors are active and we conclude that our regional cities are delivering growth and investment at levels not witnessed for many years.'