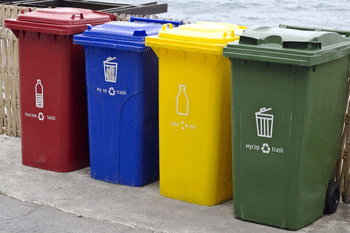 Recycling in Wales has reached its highest ever recorded level and has exceeded its statutory target.
In 2015/16 the average combined reuse, recycling and composting rate across Wales' 22 local authorities was 60%—an increase of 4% on last year's figure.
While the data is provisional, it shows Welsh councils have been able to exceed the new Statutory Recycling Target of 58%.
As part of Wales' long-term waste strategy, every local authority must meet recycling targets that rise to 70% by 2025 or face financial penalties.
'This is the first year recycling levels have increased beyond the ambitious target of 58%, which is up from the previous year's target of 52%,' said the cabinet secretary for environment and rural affairs, Lesley Griffiths.
'The fact these figures not only achieve the target but, in fact, exceed it is highly encouraging, showing we are continually improving our recycling rate.'
'I am proud that we lead the rest of the UK in our recycling rate but I want us to do even better and become Europe's best recycling nation,' Ms Griffiths added.
The charity Keep Britain Tidy has, in the past, criticised England for not keeping up with Wales when it comes to recycling.
They reported last June that only 44% of waste in England was recycled, a figure that has remained static over the past two years.