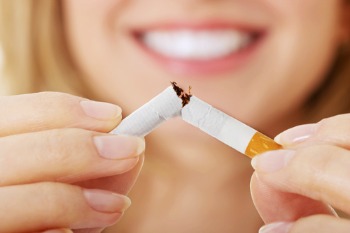 Those who wish to quit smoking are preparing for a month without tobacco as new figures reveal quitting success rates are at their highest for 'at least a decade'.
New data published in a University College of London (UCL) report shows quitting success rates are up to 19.8% for the first 6 months of this year, significantly higher than the average for the last 10 years (15.7%).
The figures show, in particular, that quitting success rates among the less well off have sharply increased after years when they remained consistently low. For the first time, manual labourers have virtually the same chances of quitting as white collar workers.
Published to coincide with the launch of Stoptober quit smoking challenge, the report highlighted a number of reasons why it was getting easier to quit, including e-cigarettes, restrictions on smoking, and the banning of the use of attractive brand imagery on tobacco packaging.
'The battle against smoking is far from over. It is still the country's biggest killer, causing 79,000 deaths a year. For every death, another 20 smokers are suffering from a smoking-related disease,' said Professor Gina Radford, deputy chief medical officer.
'Far too many people are still dying as a result of smoking but there has never been a better time to quit. The culture has changed, strong legislation is in place and effective support is available.
'It's never too late to give up. Any smoker, no matter what their age, will feel the health benefits within months. Make the commitment to stop, join Stoptober, and add healthier years to your life.'